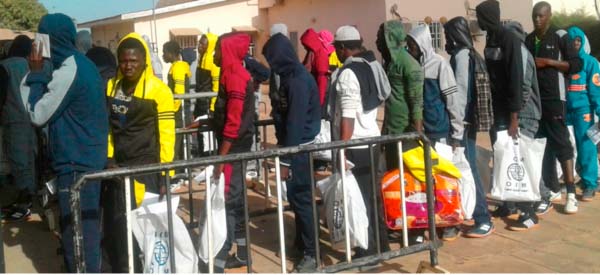 International Organization for Migration (IOM), in partnership with the Ministry of Foreign Affairs, International Cooperation and Gambians Aboard and the Ministry of Interior, has repatriated 169 Gambians from Libya.

This is the second batch of returnees following the repatriation of 140 Gambians sometime last month.
The deputy permanent secretary at the Ministry of Foreign Affairs, Ebrima Jobe, said consultations for the repatriation were done in collaboration with the IOM for Gambians living in Libya to come home voluntarily as "nobody was forced to return home".
He assured Gambians that they would try by all means to repatriate the reminding Gambians living in Libya.
DPS Jobe added that there are more than 10 women, and babies as well as people, who are very ill among the returnees, but they would try to take care as they monitor their situation.
He assured the returnees that the Government of The Gambia will try by all means to ensure they are provided with all that they need to be able to stand on their feet again.
He also blamed the returnees for going to Libya after knowing that there is no legitimate Government in that country.
Fatou Bojang, one of the returnees, said they were subject to all kinds of torture and they hardly eat enough nor were they able to look after themselves.
The 22-year-old, who is from Bansang but was living in Tallinding before she left for Libya, said she regretted travelling to Libya as conditions are harsh for migrants in that country.
Thank God, she remarked, that there is now a change of government in The Gambia hence she is optimistic that "things will finally change for the better so that there will hardly be victims like her again from The Gambia.
Johnsaba Jawara, who left The Gambia last year June, was 4-month pregnant when she took the venture. And upon her arrival in Libya she was arrested and imprisoned for 7months. It was in prison that she gave birth to a baby boy, who is now three-month-old.
The 21-year-old, who is from Tujereng, said she had to venture into the perilous journey of going to Europe because of poverty. However, she regretted taking the venture.
"I was nearly killed because during my time at the prison the prison officers used to stand on my stomach and when it was time for me to give birth it really disturbed me and I suffered a lot; I even had complications and we hardly eat," she narrated her ordeal.
"If you take half bread, that will be your meal for the rest of the day and if you work for them they never pay your salary and if you ask you are subjected to beating."
Johnsaba said she is appealing to the Government of the Gambia to do something about their situation and to encourage and appeal to other Gambians who are about to embark on such journey not to venture.
"Because if they know what is in store for them in Libya they would rather stay here in The Gambia and die in poverty than going to that hell on earth," she said.
Read Other Articles In Article (Archive)