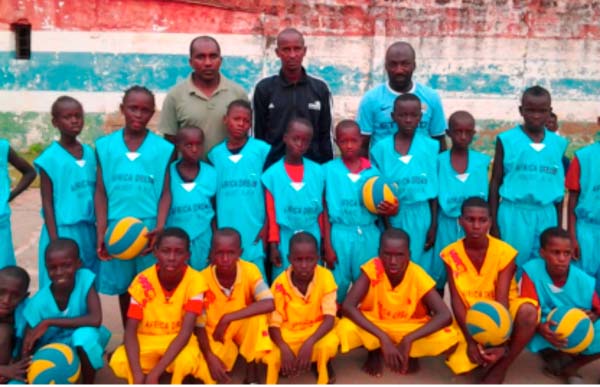 The recent success of Gambia volleyball teams in Zone II should be utilized as a springboard to promote the sustainable participation of young people in sport.
Moreover, stakeholders must ensure that policies regarding the development of sport at the grassroots encourage youth participation.
The introduction of African Dream Project in December 2014 by the Gambia volleyball federation has denoted the move for the decentralization of volleyball to the grassroots.
The project has set up four centers nationwide: Banjul, Serrekunda, Brikama and Farafenni in the North Bank Region of the Gambia.
And as part of his tour to the centers the president of Gambia Volleyball Federation, Yunusa Barry, and the project management team visited Farafenni centre on Saturday to see the level of readiness at the centre.
In his welcome remarks, the Director of Africa Dream Project in the Gambia, Bai Dodou Jallow, urged the community to encourage and involve schools to discourage the students from participating in societal crimes and drug abuse and to discover and nurture the hidden talents at the grassroots.
"The African Dream Project is here for Gambians and is a collective responsibility for everyone to support GVBF in realizing it dreams," Jallow stated. He added that Farafenni is the only region in Provincial Gambia to have benefited from the project but they have to tighten their belts to show commitment or the center will be moved to another region.
Mr Yusuf, PE teacher at Farafenni Senior Secondary School, appealed to the volleyball federation to put more consideration at the center, for he believes three are lot of hidden talents in the region.
For his part, the president of GVBF, Yunusa Barry, reiterated his executive's willingness and commitment to spread the game to the last village in The Gambia.
He advised the children to maintain discipline at all cost and adhere to their coaches and trainers."Sport and physical education is fundamental to the early development of children and youth and the skills learned during play," he said, adding that physical education and sport contribute to the holistic development of young people.
He reminded the gathering that the "Africa Dream Project" is the initiative of the FIVB president, Dr Ary S. Graca, who he said wants to see an Africa nation on the podium at world championships.
Barry told the children that volleyball is "one of the easiest sports to get involved in and isn't at all expensive to play".
"If you're simply looking for some light-hearted fun without the competitiveness, simply gath
gather a group of friends and start playing the game thus the slogan: 'Keep the ball Flying'," he said.
[if gte mso 9]>
Normal
0
false
false
false
EN-US
JA
X-NONE
EndFragment
Read Other Articles In Article (Archive)