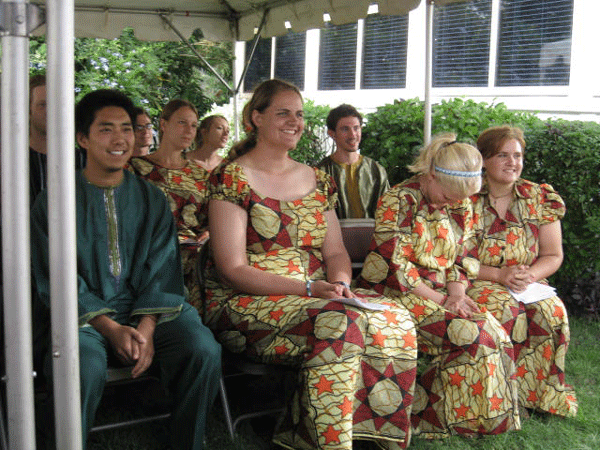 Some members of the Peace Corps number fifteen were sworn-in on Friday 18th April 2008, at the glowing lush green residence of the U.S. Ambassador in Fajara Bakau.
The functions area to be taken by these new, versatile young Americans the length and breath of the country include helping the people in meeting their need for trained men and promote a better understanding of other people on the part of Americans.
In addition to their key another focus area to be looked into by these sworn-in Peace Corps is health and community development at various region of The Gambia.
In his opening remarks, the U.S. Ambassador in a short but very scholarly way reminded the new Peace Corps of their chosen role that is not enterprising but only to help others. Mr Barry Wells assured them of his support and wish them continued success in their endeavors in The Gambia.
Representing the Secretary of State for Health and Social Welfare was Mr Sulayman Samba, Permanent Secretary Department of Health, expressed his sincere appreciation to Peace Corps The Gambia, on behalf of Government and the people of this country. In addition, Mr Samba emphasised the need for the provision of essential health care which, he highlighted, is useful to our lives, our personal hygiene and environmental sanitation and along with other factors help to improve quality life.
Peace Corps Worldwide Director, Mr Ron Tschetter, before delivering a historic remark about the Peace Corps, was engaged by journalist in a press briefing. While delivering his remarks, Mr Ischetter elucidated that the volunteers will be an intergral part of the community in which they live. This will give the community a greater capacity to develop itself.
The country Director of Peace Corps, Mr. Mike MacConnel, also expressed similar sentiments
Read Other Articles In Article (Archive)