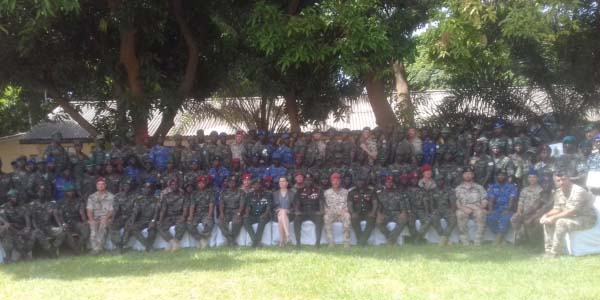 A total number of 100 Gambia Armed Forces personnel on Thursday completed a month long training on Peace Support Operation, Ambush and Counter Ambush Drill, Combat medic, Mounted and Dismounted Patrolling.

The training was spearheaded by the German Mobile Training Team.
Deputy Chief of Defence Staff Gambia Armed Forces Major Gen. Yankuba Drammeh, said the training was the main stage of any organisation and The Gambia Armed Forces is by all means an exception to the assertion.
Conscious of these facts, he said, this is what the Chief of Defence Staff continues to feature prominently training and retraining programmes that enhances professionalism and regimentation within The Gambia Armed Forces.
"We view this training as a very important component in our collective life to transform and reorganise the armed forces" he added.
Commander of the Gambia Armed Forces, Lt. Col. Omar B. Bojang said the unanimous decision to conduct the training in The Gambia is a clear reflection of the fraternal bond that continues to exist between the governments of Germany and The Gambia.
"The concept of joint operations is becoming indispensable in view of the emergence of new political and military challenges that cut across multinational frontiers".
To be successful, he said, military forces must train first and foremost on warfare particularly the way they intend to fight.
"They must also train to conduct military operations other than war (MOOTW) and be prepared to operate in inter-agency and multinational environments," he added.
German chancellor to The Gambia, Ms Britta Salecker, said with the return to democracy, The Gambia has become an important partner sharing the same values in international politics and has also become a pillar of stability.
She said, Germany is supporting the consolidation of democracy and the rule of law in The Gambia. "In the security sector for instance we are doing this trough cooperation with the police, the police academy and the GID, border management among others."
Read Other Articles In Article (Archive)