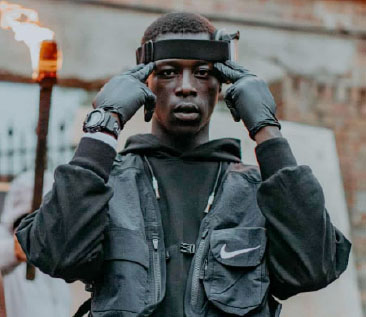 Pa Salieu is a phenomenal Gambian UK-based rapper on the rise. Born in Slough UK, the youngster in the recent past has shown utmost commitment to perfecting trade in the dancehall scene.
At his early years, his family relocated to United Kingdom. He was named after his father's eldest brother, Pa Salieu, a former police officer back home who died in his early twenties.
Before his first birthday, his parents sent him back to The Gambia where he lived with his grandmother. There, Pa spent his formative years living in a household with his relatives.
At the age of 8, his mother brought him back to England and there they later moved to Hill fields, a suburb in the North of Coventry.
At was this new home, which prompted his early inspiration to venture into music, becoming the focus of his breakout song 'Frontline' released in January 2020 and produced by Jevon.
He started pursuing a music career after his close friend was killed, and he recorded his first freestyle at a friend's small home studio setup, where he would regularly visit to write and record music.
It was in October 2019, when he was the victim of a shooting in Coventry, where he was shot in the head but he survived and made a full recovery.
He was later signed to Warner Records and went on to release a fascinating music video titled- Frontline, which was released on YouTube via Mixtape Madness.
Since its release, it has accumulated over two million views and over three million streams; it has also become the most played track of 2020 on BBC 1-Xtra, Reprezent Radio and Rinse FM.
Salieu's music has received support from Virgil Abloh, BBC Radio 1's Annie Macand Tiffany Calver as well as OVO Sound co-founder Oliver El Khatib.
The early momentum of "Frontline" has continued with a string of feature verses. He has over the years collaborated with South London rapper SL on the song "Hit the Block", as well as Meekz, M1llionz and Teeway on "Year of the Real".
He has also collaborated with Backroad Gee and Ambush for the remix to their track, "Party Popper".
In June 2020, Salieu released two tracks – "Betty" and "Bang Out". He was premiered by Annie Mac and DJ Target on BBC Radio 1.
The Gambia star described by the London Evening Standard as the rapper to watch in 2020, and has received strong support from J Hus.
In January 2021, he was announced as the winner of the BBC Sound of... 2021, and on 22 January 2021, he did his debut US TV performance on Jimmy Fallon "The Tonight Show" and performed "Frontline".
Pa Salieu has been selected by GQ as one of 11 "new musicians who'll make 2021 better"and he was also on the cover of NME's first issue of 2021, NME 100 edition.
Read Other Articles In Arts and Culture