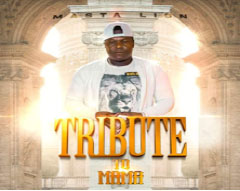 Masta Lion, Helsinki based Gambian Afro-Reggae artiste has released his debut album called 'Tribute to Mama' in all digital platforms.
The album comprising ten tracks was produced by Pak Music and Hardcore Production featuring Black Thunder, Sizzla Kalangi, Anthony B, Ras Askia Singateh and Akipunture.
Masta Lion told The Point Entertainment and Lifestyle that: "My mother who has always been my key motivator passed away on March 5th 2021 which was not easy but I have to take faith and continue praying for her. This "Tribute to Mama" concept is dedicated to her and all mothers around the globe because they are playing vital roles in everyone's life".
He stressed that his mother's motivation made him much stronger to go for transition and work as a recording artiste and fulfill his late mother's mission.
"Music has been in my blood. I inherited it from my beloved mother and got inspired by her since childhood."
He recalled that during his early childhood, he used to go with his mother to different religious gatherings where he started his singing career but due to circumstances he was unable to take that path seriously.
He added that he started playing as a Deejay in naming ceremonies, club gigs and private events in the early 90s in The Gambia.
"While in Finland I was Deejaying while studying but it was not easy. It became a passion and I was prepared to face the challenges on my musical journey. I studied multicultural event management and acquired a Bachelor's in Hospitality Management which prepared me to do events that bring people from different backgrounds to embrace peace, love and unity through music," Masta Lion also chief executive officer of Masta Lion Promotions said.
"I am really thankful to all artistes, producers and friends for their great support in making this project a successful one. I will continue working hard to come with more songs and videos to entertain my fans globally," he concluded.
Read Other Articles In Arts and Culture