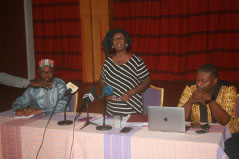 EbunjanPerforming Arts Association popularly called Ebunjan Theatre, the only performing theatre troupe in The Gambia is set to commence training for twelve graduates from the Department of English in the School of Arts and Sciences of the University of The Gambia that currently teaching at the upper and lower basic schools in the Greater Banjul Area.
The selected teachers from the twelve schools will be trained on the project's objective which is playwriting and directing skills with specific underscoring the fact that human rights culture demands responsible behavior and activities.
Speaking at a press conference held at the theatre in Kanifing on Saturday, Janet Badjan-Young, artistic director and chairperson of Ebunjan Performing Arts Association, disclosed thatthe project: Theatre – an effective tool for Human Rights Education in The Gambia is funded by the Netherlands government.
At the end of the training session,she said, teachers will motivate and encourage students to participate in narrating factual events on human rights violations within their communities.
In brief, she disclosed that Theatre – an effective tool for Human Rights Education in The Gambia is a two-year project running from 2021-2023 and the association will implement thefirstpart of the project on issues pertaining to the Rights of the Child in The Gambia.
"The first collection of twelve edited short plays to be written and directed by the teachers will be performed at a planned Human Rights Festival in November," she disclosed.
Madam Badjan-Young told members of press that the National Human Rights Commission – The Gambia has been invited as a partner in this project in other to provide vital information on current human rights violations with negative impact(s) on children. "This partnership reflects their Mission Statement: 'Our mission requires us to inform the public of their human rights…'" she added.
She expressed delights saying Ebunjan Performing Arts Association is thrilled to execute this project given that it underscores its raison d'etre: promoting theatre as a tool for social development in The Gambia.And "DrCherno Omar Barry, former Executive Secretary at the NHRC and Ms Chapman, Lecturer in the Department of English, and Director of Theatre-in-Education programs at the University of The Gambia are among the Consultants in this challenging project," she stated.
Mr Emmanuel Joof, Commissioner, Chairman of National Human Rights Commission described the project as a laudable initiation while he assured Ebunjan Performing Arts Association of his Commission's support.
He reiterated their partnership with the Ebunja on the project while noting that it is part of the Commission's strategic objective to deal with human rights and the rights of children and "in whatever way we will collaborate, partner and support this initiative because it is very important."
He added further that streamlining human rights in schools is one of the NHRC objectives and this is vital.
The NHRC chairman noted that it is the children that will build this country and the way we mold the children will give the society the country we will have tomorrow, "therefore we should be very mindful what we are grooming."
Read Other Articles In Arts and Culture