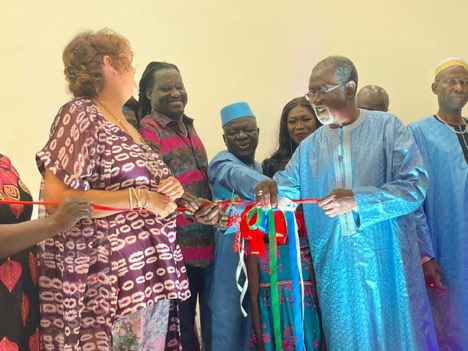 Solomelo's Music Venue, a multipurpose center built by a Gambian musician in order to contribute his quota in the productive sector of our economy and the entertainment at large, was launched on Tuesday with a huge attendance by a cross section of Gambians.
Among the dignitaries who attended the event were the authorities from the Gambia Tourism Board, old and young iconic Gambia musicals, and important stakeholders in the country's entertainment sector.
Sulay Sowe whose music name is Solomelo is the founder of the multipurpose center with support from his wife, who at all times works in making sure Solomelo gets his dream fulfilled. Solomelo is a co-founder of The Gambia Music Union with aim of promoting Gambian content and availing young people within the entertainment industry the opportunity to showcase their talents.
Artist Solomelo called on Gambians to take Solomelo's Music Venue as their own and showcase their talents. He continued that he has more plans in continuing to contribute his quota to nation-building, especially in the area of arts and culture which includes music.
The launching of the Music Venue that was held in Bakua coincided with the World Music day celebration and it was celebrated with beautiful and melodious performances by Gambian artists that include the king of Kora Jaliba Kuyateh, Solomelo, and others.
The center is projected to contribute immensely to the socio-economic development of the Gambia focusing mostly on Entertainment and other relevant events that are of great interest to the nation. Solomelo's, is a well-built center with all facilities including air-conditioning, a VIP quarter, first-class toilets, a standard performing stage, and music equipment with a PA system and bar for hosting events.
Speaking at the ceremony, the Chairperson of the Gambia Tourism Board, Mr. Samba Bach Faye expressed delight in gracing such a magnificent show and work done by a concerned Gambian who is playing a great impact on the country's development, especially in the entertainment industry.
Sulay also expressed a similar sentiment and thanked all those who contributed one way or the other in making sure that the event came to success. He told this medium that his whole intention is to see the Gambian entertainment industry growing and making waves in the international arena.
The center can be used for Concerts, Seminars, Weddings, Workshops, Conferences, Rehearsals, Live Performances, Theatre Productions, Fashion Shows, TV Productions, Product Launches, Youth Projects, and Exhibitions among others.
Read Other Articles In Arts and Culture