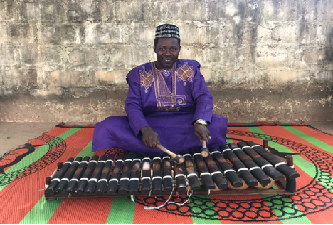 In an effort to promote Gambian culture and tradition, rising Gambian balafon player and a teacher, Jali Haruna Jassey, has wasted no time in promoting the Gambian culture and tradition.
Jali, who is one of the balafon players of The Gambia, and besides his work with bands and traditional griot like playing at naming ceremonies; he is inviting regularly students from abroad to share his knowledge and skill.
Jali, come from the mandinka tribe and was born on 12th February 1972.
"I started to play music at the age of 7 years as my parents are musicians too. In 1987, I was grown up and started to play in a band called "Amdalie Band".
In 1995 Jali joined the band called "Rairaba" and attended the WOMAD international festival (www.womad.org).
In 1997, he also attended another festival in Seattle, USA. And after returning from US festival, he joined the Karamba Experience music school where he started to teach people how to play the balafon music.
"Nowadays I perform at the Tanji Village Museum. There I met Jali Kebba and I am now happy to be with jail Kebba and the band!"
He said balafon performance has now been increasing in the country, adding that most of the people believe in traditional music.
Jali, according to him, is teaching balafon music at Sonna Jobarteh Academic school, adding that nowadays, people relied on the griots that's why, I focus on the traditional music only because it is very important for our young generation to learn about the balafon music.
Jali also thanked Sonna Jobarteh, The Gambian female kora player for her effort in promoting the traditional music, and called on the government to support her effort in contributing to national development.
Read Other Articles In Arts and Culture