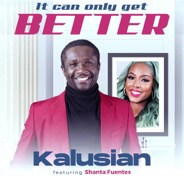 Finland-based music minister, songwriter, and vocal coach, Kalusian is set to release his newest single titled: "It can only get Better."
He single features Shanta Fuentes, multi talented artist and songwriter from New York City.
The vocal coach discloses that, he will be releasing two singles on his birthday, 25th May 2022. Speaking about his upcoming masterpieces, Kalusian said: "One is a throne room song and the other is an outer court song."
"One will transport you to heaven to join the angels worshipping the EL ELYON(God the Highest) and when you are back to earth, the other will fire you up to face the devil on Monday, conquering giants ,obstacles as you live out his purpose for your life whilst on earth."
Produced by M-Chord, "It can only get Better" is really an off the hook song for me, very groovy and inspiring," he said.
"God in the Highest" is produced by Ebenezer Iriemie and features one of Nigeria´s finest music ministers, Owie Abutu. It is a sure worship song for your playlist.
Currently based in Finland with his lovely wife and 4months old baby, Kalusian is a Nigerian-born recording artiste, singer-songwriter who has more than 6 singles to his credit.
He has led worship in concerts in Nigeria, Ghana, Sierra Leone, Gambia, Sweden and Finland. Nominated for best gospel song in The Gambia and best radio host, he has also hosted Gospel Talent Hunt show live on radio and TV in The Gambia (Season 1-3, 2016 - 2018).
The heartfelt new releases, "God in the Highest" and "It can only get Better" are off his forthcoming new album releasing this year. Kalusian has also hinted at a Live recording Music video coming and more collaborations with some gospel artiste in Finland and across Europe as well as his long awaited album.
Read Other Articles In Arts and Culture