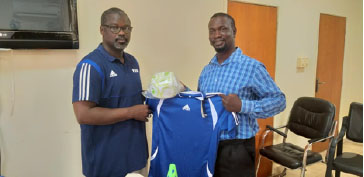 In fulfilment of his promise, Mr.Bajo presented to the Deaf National team officials set of jerseys, cones and markers.
GFF General Secretary Lamin M Jassey also pledged D5000:00 (Five Thousand Dalasis) as his contribution to the team's preparation.
Speaking through an interpreter while receiving the items, the President of the Deaf Sports Mr. Lamin Ceesay thanked GFF President Lamin Kaba Bajo for what he described "magnificent gesture " in helping the Deaf National team in their preparation towards the tournament.
He described President Bajo as a philanthropist noting that the Association is always proud of their collaboration with the GFF particularly President Bajo "who is always opened to us anytime we request help from him", he stated.
Mr. Ceesay thanked GFF General Secretary and Finance Director Mr.Kemo Ceesay for their genuine help " without which it would be difficult for us".
Earlier on, Mr. Bajo remarked that his doors are always opened and that his Office will always support any meaningful course by the Deaf Scorpions.
He congratulated the Association for their attempt to host the Sub Regional tournament.
The West Africa Deaf football tournament was first played in Nigeria 2010 with the host winning the maiden edition.
The Gambia joined the tournament in 2017 in Mali and came out 4th as the Most disciplined team with a Gambian Referee Mustapha Ndow who also won the best Referee of the tournament.
Twelve countries are set toparticipate in this year's tournament, the Gambia hosting the event for the first time.
Source-GFF
Read Other Articles In Sports