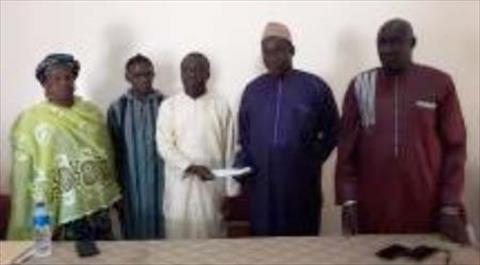 Speaking at handing over held at the governor's office in Brikama, Modou Mbengue said as Senegalese living in The Gambia, they deemed it necessary to join hands with stakeholders in contributing towards combating the covid-19.
Kadijatou Jallow, also a member of the Senegalese community thanked local authorities for not only creating the enabling environment but for their support to the Senegalese community living in Brikama to feel at home.
Deputy Governor Musa B. Suso expressed appreciation to the Senegalese community for their generous gesture, saying things are different in terms of humanitarian assistance with covid-19 as donors are facing the same problem.
According to him, the move is a clear testimony of the bilateral and peaceful coexistence that exist between Senegal and The Gambia
Chairman of the taskforce committee, Governor Bakary K. Sanyang commended the Senegalese community for the donation, saying it will not only help the taskforce in their quest to stop the spread of the virus but also to give communities on the front lines of the crisis the resources they will need to act quickly and protect the most vulnerable people against the corona virus pandemic.
He noted that coronavirus has taken thousands of lives and spread to nearly every country in the world while stressing the need to sensitise people about messages related to covid-19 and how to prevent themselves as well as adhere to health workers' and WHO's advises.
Read Other Articles In National News