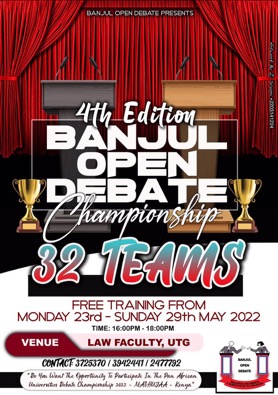 With determination and vision, the organisation over the years has been very committed in breeding the spirit of debate in the country cognizant of its relevance to promoting tolerance and peaceful coexistence anchored on principle of substitution of violence with dialogue.
The championship this year is themed "Debate & Dialogue: 4 Substitutes for Violence".
It targets youth groups, civil society organizations, students, and youths, in general, to argue and proffer solutions to contemporary national and global issues affecting their lives and livelihoods, especially emerging from an
elections and entering another one soon where peace and coexistence are fundamentals to be jealously safeguarded.
Winners of the championship will mostly likely represent The Gambia in the 2022 Pan-African Universities Debate Championship to be held in Kenya with the availability of funding.
As the championship boots, the organisation begins with offering free weeklong training slated for 23rd to 29th May 2022, to prepare the 32-team targeted participants ahead of the championship as it adopts the British Parliamentary system.
According to the organisation's president and co-founder, who is also the newly elected country representative and committee member of the Pan African Universities Debate Championship Council (PAUDC), Mr . Muhammed Lamin F. Kinteh, this year's championship is in preparation to represent The Gambia in the 15th Edition of the Pan-African Universities Debate Championship titled (PAUDC Mashujaa '22) to be held in Nairobi, Kenya.
The tournament, he said, will run from the 8th to the 15th of December 2022 at Strathmore University.
He adds that the championship is open to all and a great opportunity for anyone interested in developing great skills in debating and presentation of constructive arguments in the public.
Read Other Articles In National News