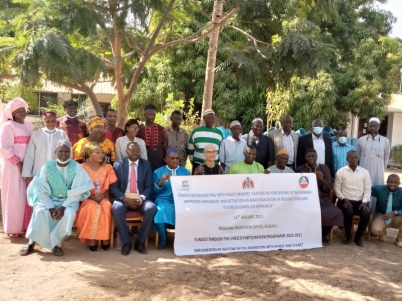 The forum held at the Educational Regional Directorate, Region 1, New Jeshwang brought together different stakeholders and some education partners who deliberated on the issue, the way forward and recommendations under the project theme – 'Leaving No One Behind in The Gambia: Improved Enrolment and Retention in Basic Education in Regions Through Youths/Women Led Approach.'
The project is funded under the UNESCO 2020-2021 participation programme and implemented by the Gambia National Commission for UNESCO in collaboration with Education for All Campaign Network (EFANet) and Ministry of Basic and Secondary Education through the Regional Education Directorates 4, 5, and 6.
Addressing the forum, Mr. Louis Moses Mendy, Permanent Secretary at Ministry of Basic and Secondary Education noted that the two policies that preceded the 2016, 2013 emphasises in serious terms, the need for the Ministry "to provide equity, relevant access quality education to every student or school going child in this country."
Discussing the education sector strategy on enrolment, he disclosed that the Ministry decided to center discourse on regions 4, 5 and 6 respectively for specific reasons as "there are lots of Muslim schools in this country particularly in Regions 1 and 2 that a child living next door will (reach) walk to and find a school."
But in other regions "it is not the case, that's why the focus is on region 4, 5 and 6 being reason for this convergence. So, it is not that the Ministry is not interested in region 1 and 2," he clarified.
He advised stakeholders to look critically at what is needed so that the aforementioned regions could be helped to provide equity, access and quality education just like the child in the center of the city of Banjul.
PS Mendy, however, noted that the Ministry has done well in term of access "in 2007 to 2017 we departed from 88% to 108% in term of access to school. But contrary to that in term of quality, retention, gross enrolment rate (GER) and next enrolment rate (NER), we still need to work harder particularly in regions 4, 5, 6. This is because the percentages are not encouraging at all."
Maimuna Sidibeh, Principal Programme Officer of the Gambia Natcom-UNESCO noted the importance of education as the Constitution of The Gambia and the policies of MoBSE are geared towards the provision of basic and secondary education for Gambians, with focus on how to meet the current global education targets by 2030.
Kebba Omar Jarjusey, EFANet National Coordinator said their core mandate is to provide inclusive, equitable, quality education for the citizenry of this country for lifelong learning.
He expressed EFANet appreciation over the gestures from the Gambia Natcom-UNESCO for leading the process.
Read Other Articles In Headlines