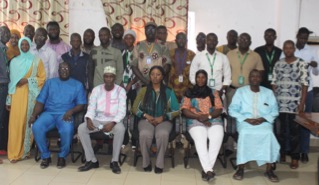 This document was internally reviewed by a technical review team of the National Environment Agency, but as a statutory requirement, such draft reports should be subject to a national validation, where stakeholders will have the opportunity to appraise and initiate relevant comments and observations to add value to the ESMP document.
In his opening remarks during the validation, NEA`s director of Technical Services Network (DTSN), Malick Bah, disclosed that that was a process of evaluating the likely environmental impacts of a project taking into account the inter-related socio-economic, cultural and human-health impacts, both beneficial and adverse.
Essentially, Director Bah added that ESMP is an environmental decision support tool, which provides information on the likely impacts of development projects to those who take the decision if the project should be authorised. The purpose is to determine potential environmental, social, and health effects of proposed development, so that those who take the decisions in developing the project and in authorising the project are informed about the likely consequences of their decisions before they take those decisions and are thereby more accountable. "It is intended to facilitate informed and transparent decision-making while seeking to avoid, reduce or mitigate potential adverse impacts through the consideration of alternative options, sites or processes," DTSN Malick Bah pointed out.
Sang Mendy, RVCTP acting project coordinator, revealed that the project seeks to contribute food and nutrition security and enhance economic growth by reducing rice importation. The specific objective of the project, he said is to increase rice production by moving from subsistence rice farming towards a commercialised market-driven farming by increasing private sector engagement in production, processing and marketing of rice.
According to Mendy, the project has at its heart to enhance private sector and other stakeholder participation in the value chain targeting to improve incomes and employment opportunities for all stakeholders especially youths and women.
Read Other Articles In Headlines