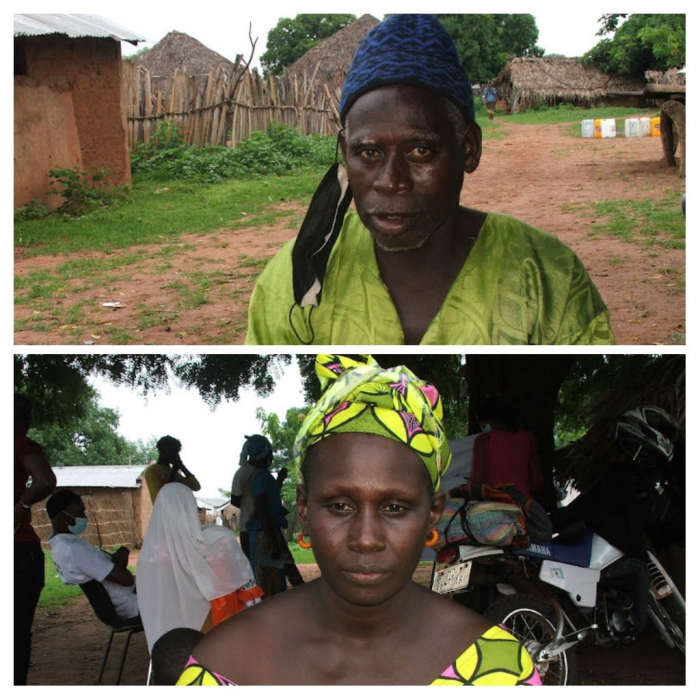 Despite hunger in many households within the seven regions of the country, families pretend to smile just to embrace the name given to the country as 'The Smiling Coast of Africa'.
A recent interview with Falie C.K. Baldeh, an International Consultant, who is assigned with the National Food System Survey revealed that the data they collected have informed them that food insecurity has increased in the rural area and 33% of the rural households have not more than one meal per day.
"Poverty is also in the increase and when we talk about poverty, we analyse this by using different scenarios and the key one is the lack of food at the household level. We did some assessment and calculations but found out that over 33% of the rural households are having not more than one meal per day. That is very serious and for about seven months in a year, they wouldn't have more than one meal per day," he said.
"One meal per day could be the same kind of food that they will cook and the diversity in terms of the utilisation is not so much impressive. This is not so much encouraging but we have found out that malnutrition became an issue and concern for rural families. We've also realised the food produced is declining, especially the cereals. Most of the key drivers to that are climate change," Mr. Baldeh stated.
Currently, 40% of extremely poor households will benefit from a Gambia government-initiated programme, which is the Social Safety Net Project (SSNP) implemented by National Nutrition Agency (NaNA). This initiative is supported by the World Bank in order to improve the living conditions of the poor and provide social assistance in the country. The project is government-initiated and World Bank supported with $30 million, with government providing $1 million.
During the enrolment exercise, our medium interacted with four rural households at Foni Bintang in the West Coast Region (WCR), Ninija at the Central River Region (CRR), and Wulli West in the Upper River Region (URR) to get first-hand information of their living conditions.
Fatou Sanyang, a resident of Sitta at Foni Bintang in WCR told this medium that the SSNP will impact lot of good things in them, saying with the money, they will be able to feed their children who are hungry and make sure they have good health.
"There are people in these villages who are very poor and will only have one meal per day. I am part of those people because I find it difficult to feed my family for the three daily meals. I sometimes have one meal per day with my children. I can say I don't have someone to help me and during the rainy season, we find it difficult to provide food," Mrs. Sanyang stated.
Yorro Bah, resident of Paleleh at Nianija CRR, also told our reporter that people in his district face numerous obstacles in terms of feeding. He said they are hungry, while calling for more support from the government.
"My compound and children are a very big concern to me and I can even run and leave my family behind due to poverty. People in this area suffer a lot. Some of my neighbours sometimes have one meal per day or none to some extent. It is the river that helps us sometimes. We fish and eat and those who cannot fish remain hungry," Mr. Bah revealed.
He called on The Gambia government to help them with boreholes for gardening in order to generate income.
Mariama Sanneh, a resident of Paleleh at Nianija District in CRR, thanked The Gambia government and World Bank, saying the support will really have a great impact on them and their families. She said they welcome the move and called for more support.
"We will make sure the money serves its purpose as expected. I can affirm to you that many people within the region have one meal per day. People have suffered a lot and we are hungry," Mrs. Sanneh revealed.
Salimatou Jallow, a resident of Sunchu Saidy (Njie Kunda) at Nianija in CRR, reiterated that the poverty in her community is intensifying daily. She said they don't have roads and their pregnant women find it difficult to access health care services.
"We are hungry and at the same time, we don't have water. The government should show syampathy and help us because all our surroundings have water except us. We appreciate the support from the government and World Bank because we are helpless in providing our daily survival," Mrs. Jallow told this medium.
She posited that gardening is the kind of support they want, in order to cultivate vegetables that can help fight hunger. She added that some people are very poor and only eat from the assistance rendered by good people.
Rokiatou Jawara, a resident of Gunjur Kuta in Wulli, URR, also shared her story with this medium, saying that they are very happy with the SSNP project initiated by the government and supported by the World Bank.
She hailed the NAFA project, stating that they didn't have enough food in the past but with the support, they can sustain themselves. She said the money to be received will be used for feeding and take their children to the Health Center for proper health care.
"The issue of one meal per day affects me because I sometimes have only lunch in a whole day. This happens to many people in this community. I'm a business woman but the business has collapsed.
I always use my business money to provide food for the family but at some point, I use my farm money to restart my business," the Gambia-based Nigerian stated.
Fatou Gibba, director of Community Development under the Ministry of Lands, Regional Governments and Religious Affairs, in an interview clarified that the NAFA programme is targeting the extremely poor, who will benefit from an 18-month cash transfer. She said the beneficiaries will be given D3, 000 every two months in order to assist them for feeding and investing in a small-scale business. Director Gibba added that the money is small but they expect them to save and invest to generate income.
"By looking at the condition of some of the places we visited in CRR, one will realise that people are very poor and I wouldn't doubt the fact that they get one meal per day. Those are the people the project is targeting to ensure it lifts them from one stage to another. In the rural area, there is low economic development taking place and many people relied on agriculture for their feedings," she said.
She continued that the rainy season is not good as before and farmers do finish their harvest before the following season, stating that may be the root cause of extreme poverty in most rural households.
Director Gibba reiterated that there is no market to buy and sell in order to earn; to buy a bag of rice, fish, or meat to eat.
"It is very rare in their community to see a place where fish or meat is sold. Of course, there is poverty in the rural area and there is one meal per family. I wouldn't deny the fact if research has established it based on what I have seen in the field. We should be looking at other alternatives for agriculture and other income-generating activities to help the poor," she added.
Read Other Articles In Headlines