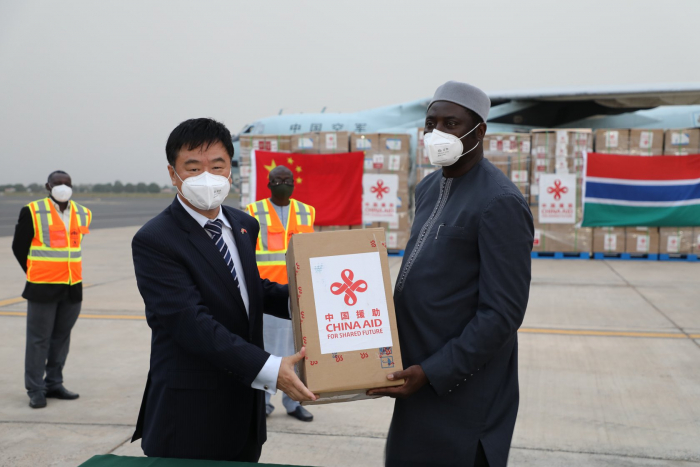 This was one of the largest consignments of China-aid medical supplies sent to the country since the outbreak of COVID-19, including 100,000 ordinary face masks, 10,000 N95 masks, 10,000 test kits, and many other protective gears.
A handover ceremony was held at the airport. H.E. Amb. Ma Jianchun, Hon. Foreign Minister Dr. Tangara, Hon. Health Minister Dr. Samateh, and WHO Country Rep. Dr. Desta attended the event.
Amb. Ma reviewed the fruitful China-Gambia cooperation in COVID-19 containment in the past few months. He noted that China had always been advocating international solidarity in this common fight against the pandemic. That China and The Gambia had been taking continuous actions in support of each other in the whole process, which had brought the hearts of peoples from the two countries even closer to each other. Amb. Ma spoke highly of the Gambian government and people's efforts in making the country COVID-free. He expressed China's readiness to continue closely working with The Gambia towards defeating the pandemic, and in promoting future development.
Hon. Tangara, on behalf of H.E. President Adama Barrow, expressed appreciation to H.E. President Xi Jinping, the Chinese government and people. He sang praise of China's response to COVID-19 and its continuous efforts in promoting international solidarity in the global fight against the pandemic. Hon. Tangara particularly noted China's assistance to African countries including The Gambia for supporting their bid to prevail over COVID-19.
Hon. Samateh hailed the Gambia-China friendship as true friendship, and expressed delight at receiving the medical supplies, which according to him would be very helpful in increasing The Gambia's anti-pandemic resilience, and protecting the Gambian people including health workers, particularly those who have been working hard on the front line.
Dr. Desta commended China's consistent support to The Gambia in fighting the pandemic. He elaborated on The Gambia's current COVID-19 situation according to the WHO's assessments, and said that the consignment of medical supplies from China came at the right time, which would surely strengthen The Gambia's response to the pandemic.
After the handover ceremony, Amb. Ma accepted a brief interview by QTV journalists. By Chinese Embassy in The Gambia
Read Other Articles In Headlines