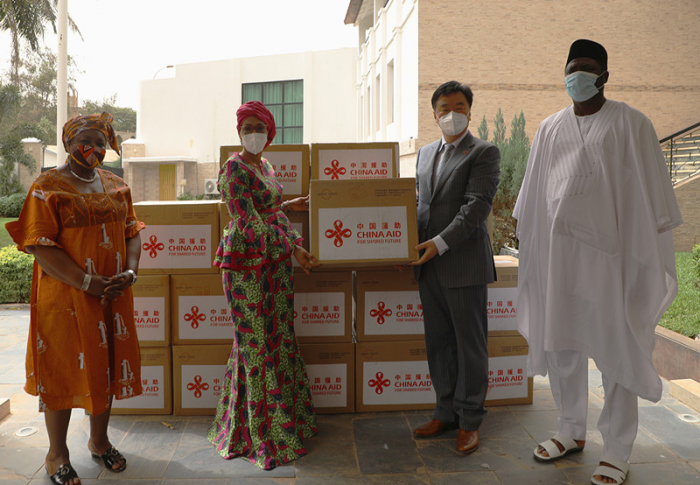 Present at the ceremony were H.E. First Lady Fatoumatta Bah-Barrow, Hon. Foreign Minister Dr. Mamadou Tangara, and Hon. Minister of Basic and Secondary Education Madam Claudia Cole. The supplies were further given by the First Lady to the MoBSE,as they would be used to protect the health security of children who are supposed to return to school.
Amb. Ma spoke highly of H.E. First Lady Bah-Barrow's care and charitable work for grass root communities over the past few years. He expressed confidence that the donated medical supplies would help strengthen such efforts of the First Lady and bring support to those in need. Amb. Ma also elaborated on China's people's-lives-first principle in its fight against the coronavirus, and China's vision of building a community with public health security for all and a community with a shared future for mankind. Amb. Ma once again expressed China's readiness to continue working closely with The Gambia in defeating the pandemic, and in promoting socio-economic development.
First Lady Bah-Barrow asked Amb. Ma to convey her kind regards and best wishes to Madam Peng Liyuan, wife of Chinese President Xi Jinping. She also appreciated China for supporting her efforts in promoting the well-being of Gambian people.
Hon. Tangara expressed appreciation for China's continuous support to The Gambia in the fight against COVID-19. He echoed H.E. President Xi Jinping's call for China-Africa solidarity in prevailing over the pandemic, which was voiced at the recent Extraordinary China-Africa Summit on Solidarity against COVID-19.
Hon. Cole expressed delight at receiving the medical supplies, which she said had "come at the right time" and would significantly contribute to the resumption of classes for school children who had stayed home for months.
First Lady Bah-Barrow and Amb. Ma jointly opened the boxes and checked the medical materials. Amb. Ma accepted an interview by journalists after the handover ceremony.
Read Other Articles In Headlines