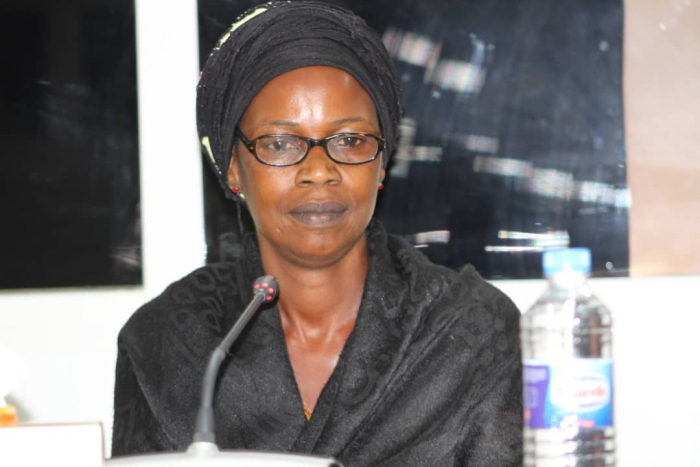 She told the TRRC that while receiving her treatment from MRC, there was a group of Santa Yalla Support Group initiated by seven people but later had 300 members.
She said that Santa Yalla was the first group that came out and enlightened people about the disease and that she was welcomed when she joined them.
"I was the first female in The Gambia to come out and said that I had HIV/AIDS."
She said the reason why she did so was because of the way people perceived it and through her sensitization,
She said through her sensitization, she was able to change people's perceptions, educate and even convince others to get tested.
She told TRRC that in one of the workshops at Tendaba, she declared that she had the disease but people could not believe it and some had to call her later and asked whether she meant what she said.
According to her, she was one-time told that someone with HIV/AIDS can't live for more than 2 months. However, since 1995, she said, she had lived for many months.
"I prefer HIV/AIDS than High blood and Diabetes because what I am able to eat, a diabetic patient wouldn't eat," she declared.
Ms. Jatta testified that at Santa Yalla Support Society, they had a home based care – with facilities to support people chronically sick. However, she said, there was a day they were told that the former President Yahya Jammeh wanted to have a meeting with them at State House.
"At this time you had only Santa Yalla Support Society and Nganiya Kiling Support Society based in Brikama. Upon arrival at State House, Jammeh told us to have a family photo."
She said after the meeting Yahya Jammeh sent a cartoon of 1.5 litres bottles containing herbs which were meant to cure HIV/AIDS. She added that no one at the time knew who sent the medications as their coordinator did not tell them anything.
"On the 18th February, 2007, while in my house, my coordinator called me and told me she had a problem because she received a call from VP's office that Yahya Jammeh said she should select 10 people for him and that he would start administering HIV treatment the next day."
Ms. Jatta recalled that it was announced over the news that the former President would start treating HIV/AIDS patients.
At this juncture a video with an Aljazeera Journalist where Yahya Jammeh declared to the whole World that he can treat HIV/AIDS was played.
Continuing her testimony, the witness testified that on the 19th of January, 2007, a vehicle took them to State House and they were received by Isatou Njie Saidy while Dr. Malick Njie did the consultations.
"After the president arrived, he declared that his conditions were that the patients would stop using Western Medicine, stop drinking attaya (green tea), and stop chewing kola nuts. While leaving Santa Yalla, I took it as if I was just going to meet a normal doctor and be allowed to go home. She added that she can't remember asking her consent before taking her details.
Ms. Jatta informed the Commission that while the consultations were ongoing, the camera was filming and some of the victims started to cover their faces but Dr. Malick Njie told them that there was no need to do that because the president was not going to play it on the TV but rather use it for reference purposes.
According to her, she was surprised because a screen was mounted and she was told to undress and put her towel and lay on the stretcher as Yahya Jammeh poured some spiritual water on her body.
She stated that Jammeh later told her to lie on her back and he took a bottle of oil and massaged her body including the private part, despite not having consented.
"Thereafter he took almost half a litre and told me to drink. I became unconscious and there was a stretcher outside in which I lied with a camera on me throughout."
The witness testified that after she drank the medicine, she became unconscious.
"Prior to taking Jammeh's medicine I was healthy and strong but the moment I started the concoction, I suffered as I was thinking and stressed because I was thinking a lot," said Jatta.
"In that treatment, we were there for six months and after our release, the following day, Yahya Jammeh called me to go back to the hospital to serve as a nurse attendant."
However, she said she could not decline the offer because she won't know what the consequences would be but later decided to leave the job on the grounds that there would come a time when she would lie to the whole world that the treatment was indeed true.
She informed the Commission that the treatment was administered at State House but they were kept at Kanifing Hospital.
She said there were seven batches receiving treatment from Jammeh and they spent seven months despite Jammeh's claims that he could treat HIV/AIDS within 3 days.
The witness recalled that there was a time each time Yahya Jammeh traveled his younger brother, Ansumana Jammeh and Dr. Mbowe administered the medications.
"After attending the treatment, they used to give us three bags of rice to remove the gravels; we went to the rice fields and picked cashew."
She added that they were also forced to work on the farms.
She said during the month of Ramadan Yahya Jammeh ordered that no one should fast because his medication was to be taken morning and evening respectively.
The witness said after nine months spent at the treatment centre, some people came out and said they were cured after conducting tests from the Sheikh Andiob; adding that samples of HIV/AIDS and non HIV patients were taken and some of these people were soldiers and their samples were taken to either Dakar or Morocco for testing
Read Other Articles In Headlines