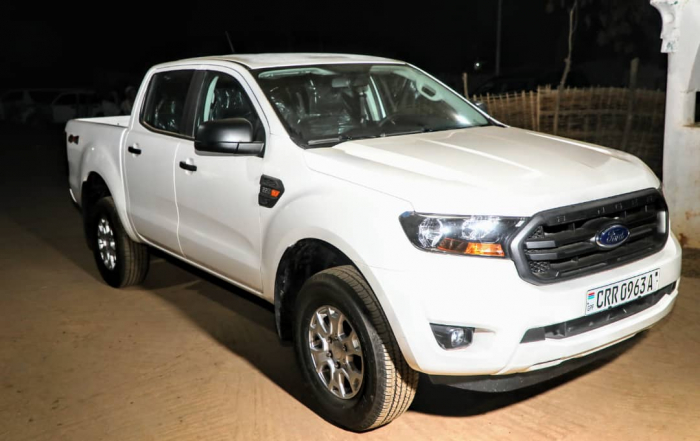 Adama Barrow, was speaking during a recent presentation of brand new pick-up to Armitage Senior at a presentation ceremony held at the Governor's residence in Janjangbureh.
Barrow spoke highly of the school's record, saying; "Armitage Senior Secondary School is indeed a unique school. It's the only boarding school throughout the country. It has a lot of historic buildings attached to it. I will not allow the school to suffer or be closed under my presidency. We will never allow that to happen."
During a recent meeting in Janjangbureh, some speakers raised concerns about the challenges facing the school and thus appealed for support for the school. One of the constraints highlighted was mobility.
"I engaged the Secretary General to make sure that we support them immediately. I'm still discussing with the Secretary General with a view to seeing how best we can still support the school in other areas."
Claudiana Cole, minister of Basic and Secondary Education, thanked President Barrow for fulfilling, what she called, his promise to support the school, while congratulating the school on their achievement in the recent West Africa Senior Secondary Certificate Examination (WASSCE).
The Gambia government she said, is committed to improving the country's education sector, thereby addressing some of the challenges that schools in the country are facing.
"I want to let you know that achieving quality education is among top priorities of the government. Therefore, as students, it's also important that you maintain maximum discipline and also respect your teachers."
Amie Jammeh, deputy head of the school, expressed delight with the presidential benevolence.
"When news of your benevolence gesture reached our school, we were all excited. However, we are not surprised for the fact it's through your personal intervention we got our school renovated and we also got 24 hours uninterrupted electricity supply. It's also through your intervention that school got a fence. We are a boarding school with over 500 students living with insecurity due to the lack of fence."
She recalled some of the difficulties they encounter especially when they want torefer to the hospitals, students who got sick due to the lack of vehicles.
Pateh Sam meeting
Meanwhile, at the Pateh Sam meeting in the Niamina East, Hamat Bah, minister of Tourism Cultures lammed the opposition Gambia Democratic Congress, saying: "The leader of GDC and its party are political opportunists."
"It would be funny for the people of Niamina to have development when your National Assembly sitting here was among the lawmakers that voted against the government Supplementary Appropriation Bill, which was designed to bring rapid development to the doorsteps of Gambians."
Tourism Minister called on the area lawmaker to join Barrow's National People's Party or it's over for him.
"This is the kind of democracy that we as country was yearning for. This is the democracy that I wanted, where opposition parties will have the platforms to speak in meetings organised by the ruling government. In fact, such a kind of democracy is not anywhere in the world even in the USA."
Read Other Articles In Headlines