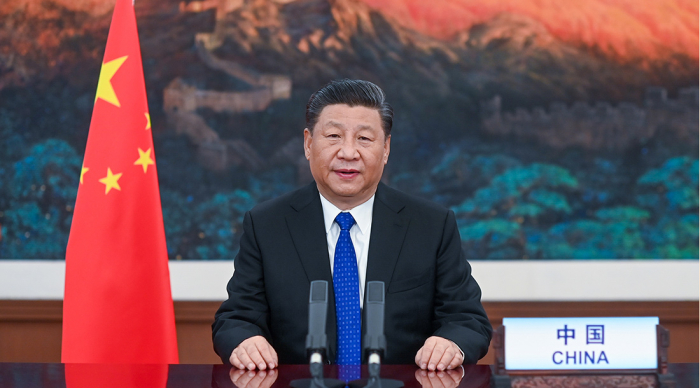 On May 18, President Xi Jinping delivered an important speech at the World Health Assembly (WHA), making key policy statements of how China has planned to engage with the rest of the world post COVID-19, and how China would preserve, protect and promote multilateralism and the fruits of globalization by leading global cooperation to combat COVID-19 through a number of practical short- and long-term measures.
President Xi reiterated the "people first" approach, which China applied when COVID-19 virus first struck the country, signifying a more humanitarian approach that gives precedence to protecting and saving lives over the economy.
He shared how China's example in dealing with COVID-19 could be applied in other countries facing the same challenge by "prevention, quarantine, detection, treatment and tracing," coupled with global cooperation on scientific R&D for vaccines and better understanding the virus.
On the outset, President Xi embraced the idea of a "comprehensive review of the global response to COVID-19" that would ascertain facts and causes that may have helped spread or influence the COVID-19 pandemic.
In order to improve global governance in public health and learn lessons from this pandemic for the future, he suggested that the review should be led by the World Health Organization (WHO) and be based on "science and professionalism," and conducted in an "objective and impartial manner."
Many Western countries, particularly the United States, are calling for accountability, and some want to hold China accountable. The diplomatic flexibility and openness demonstrated by China, despite the fact that more often than not it is politics rather than the pandemic that is driving these calls for accountability, is an opportunity for those countries to pause, reflect and cooperate, rather than demonize and scapegoat any country or nation.
A nucleic acid test at a primary school in the Dongxihu District in Wuhan, central China's Hubei Province, May 15, 2020. /Xinhua
China has also put its weight behind the WHO as Xi unequivocally said "to support the WHO is to support international cooperation."
Xi is calling for the international community to increase its "political and financial support" to the international organization at a time when the WHO is under pressure from the U.S. and is being threatened that the former may reduce or cut its funding.
The message from Xi is clear: No one country, organization or individual can solve the present crisis of the pandemic, and the only way forward is by multilateral cooperation that is led by a neutral, apolitical organization like the WHO.
In his speech, furthering his message on the need for multilateral cooperation, Xi gave an "out-of-the-box" proposal, that China in collaboration with the United Nations would establish a "global humanitarian response depot" which shall facilitate "anti-epidemic supply chains and foster 'green corridors' for fast-track transportation and customs clearance."
Such an initiative could contribute to a more institutionalized, informed and coordinated global cooperation to combat and manage epidemics like COVID-19.
A developing country, China has announced to shoulder more responsibility than many first-world powers, whose status carries with it global obligations.
Key points in this regard were made by President Xi: i) China will provide two billion U.S. dollars in the next two years to help with pandemic response, especially in developing countries; ii) China will establish a cooperation mechanism to pair up with 30 hospitals in Africa; and iii) China will work with other G20 countries to implement the Debt Service Suspension Initiative to alleviate the economic burden of the pandemic to poor countries.
Xi's policy statement of May 18 has laid out the contours of what the post-COVID-19 world order may look like. By listing time-sensitive, practical steps that China shall undertake, President Xi has demonstrated both leadership and initiative and shown that albeit the COVID-19 affliction that it has suffered, China still has the political will and resource capacity to help lead the global fight against COVID-19, and for that it shall lead by example.
Read Other Articles In Feature