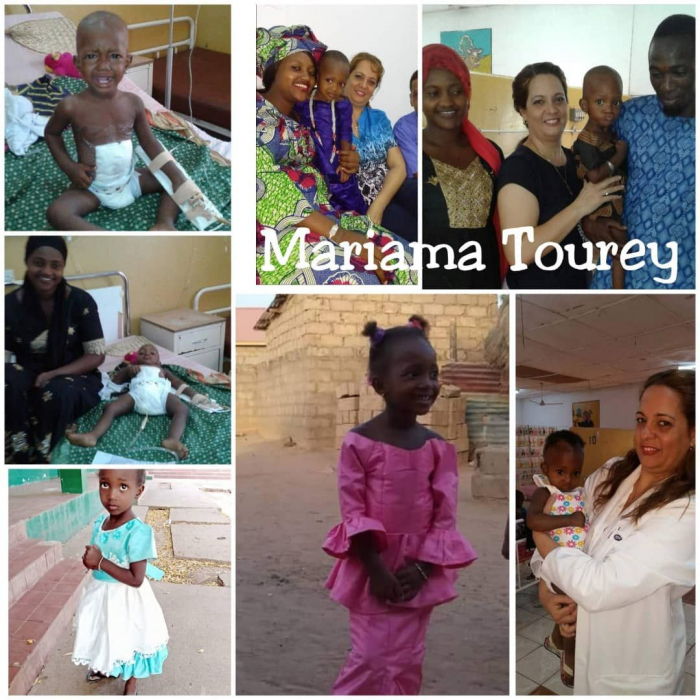 The general surgeon Dr. Raysa Quintero Ravelo, has an angel heart because of her sweetness and delicacy with which she treats her colleagues and patients and agile and skillful hands for her successes in each surgery and in the treatment of each patient who has the privilege of receiving her services.
From a region of The Gambia, Farafenni, where she offers her services dedicated to improving the quality of life of this beloved African population, she tells us with satisfaction and pride this story that made her an African mother.
"Three years ago I met Mariama. When at the age of four months she almost died in my hands. Twice she was in the operating room for long hours, twice she was seriously ill in an intensive therapy unit for about a month and twice she beated death. The first time she was four months and the second time she was fifteen months. She is separated many kilometers from me, she lives far away from me but her parents travel with their only daughter Mariama so that she can see her mommy Raysa. Her skin is black unlike minethat is white but she's my gambian girl. "
Mariama Tourey, four-month-old. She arrives atBansang Hospital located in a far away region, in a critical condition suffering from a septic shock and hydro-electrolyte imbalance. The diagnosis was an intestinal invagination of 10 days of evolution. Physical examination revealed signs of shock and imbalance and a protrusion of the small intestine of about 5 centimeters across the anal border.
Her general condition was improved as much as possible before being sent to the operating room. Even so, his condition was critical before, during and after the surgery.
They found severe peritonitis due to various intestinal perforations, in addition to intestinal gangrene of part of it. The ileum, cecum, ascending colon and part of the transverse colon were resected. They performed suturing of a perforation of the descending colon, a jejunostomy, and extensive lavage of the cavity.
The surgery was performed on January 3rd, 2018. She was treated in the intensive care unit for four weeks and then moved to the surgery ward for 10 days until her discharge.
She was followed-up by outpatient clinic weekly for nine months and her recovery was achieved and the ablactation scheme use in Cuba was applied to this girl. This was possible by means of health education and convincing the family at each visit throughout objective educational talks.
On September 12th, 2019, the birthday of this brilliant surgeon, she performed with great pleasure, forgetting the connotation of this date, the second intervention to close the ileostomy.
Thanks to the monitoring and effort of the team, they managed to take the patient to the operating room again in a eutrophic condition and with normal heme-chemical values.
Surgery was difficult due to the anatomical condition of her organs due to the first intervention. They had to resect a small portion of the jejunum and perform an intestinal anastomosis.
Three weeks of treatment elapse in therapy again and due to the general condition secondary to the entire process, the girl returns to a critical condition. They were days of great sorrow, concern and permanent work to achieve the last result of a team made up by a Cuban surgeon, a pediatrician and an anesthetist.
She is currently an eutrophic girl, with normal psychomotor development and very active and intelligent.
This is one of the many incredible but very true stories of Cuban medical missions around the world, Mariama's mother taught the girl to call the doctor mom, this baby does not lose hope of visiting the beautiful Caribbean island that sent that tender doctor with skillful hands and the heart of an angel to save her life. This little girl young enough has learned to love and value the meaning of the words Cuban doctor, and this beautiful and intelligent doctor has enjoyed the immense pleasure and great satisfaction of saving one more life, she has tasted on many occasions the flavor of solidarity, altruism and internationalism.
This is how we, Cubans, feel with an immense heart that does not fit in our chest, when we can enjoy that smile full of life, thanks to our work, a life more saved, a human being returned to his people to fight for this right that we all have. to health, freedom, peace and life.
Congratulations Dr. Quintero, Doctors like you shine and light our days.
Thank you Cuba for your solidarity, your dignity and your nobility
Members of the Cuban Medical Brigade in The Gambia
Read Other Articles In Feature