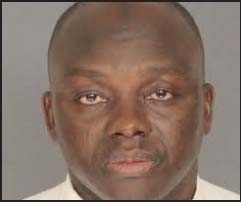 (Thursday 24th October 2019 Issue)
Yusupha Sanneh, a one-time orderly to former president Yahya Jammeh, who used to be part of the patrol team of The Gambia Armed Forces (GAF) told the Truth, Reconciliation and Reparations Commission (TRRC) on Wednesday that it was the feared Junglers who killed 8 people who were alleged to be mercenaries who wanted to attack the country between 2005 and 2006.
He said while he was Jammeh's orderly in 2006, they were in Kanilai when late Solo Bojang asked him and Sainey Jammeh to escort groundnuts to Jammeh. "A driver, Samba Barrow took us from Kanilai to Banjul at around 12am. We went straight to the kitchen at Statehouse where we meet two securities and dropped the groundnuts, while Solo went to see Jammeh."
Mr Sanneh said after that, they boarded the vehicle and proceeded to Senegambia, where Solo Bojang directed the driver a road to take a bend because he had to meet some people. "We went up to a place and he told the driver to stop and horn. He did and the gate was opened, we entered and met a vehicle that was facing the gate while others were at the back. Solo alighted and we found many paramilitaries there. I saw Malick Jatta, Sana Manjang, Bora Colley, Tumbul Tamba, Lamin Sillah (a driver), Michael Correa and Tumbul Tamba's driver Buba Jallow," he said.
He said he also saw two other people in Bailo Jallow's pickup car and the Paramilitaries were removing someone from the house, but he saw Malick Jatta with a rope tighten someone's hands. "I saw four other people in the vehicle given to Lamin Sillah and later, another person was brought in Bailo's car."
He said after the arrest around 3am, they departed to Kanilai around the mosque and headed inside the village, adding that he told the driver to drop him as his job was only as an orderly but Solo told him to go with them. "We proceeded into the bush in a garden and stopped. Solo alighted and told us the drivers to stay in our vehicles. We were there for about 30 minutes and heard gunshots and alighted from our vehicles because the sound was very heavy."
He confirmed to the commission that the shootings went for almost 45 minutes and Tumbul returned and told them that if anyone talked about it, he would be killed just like how others were killed.
He highlighted that after the shootings, he never saw those whose hands were tied and carried in their vehicles. He said Solo told them that those who were carried into the bush were mercenaries who wanted to attack the country.
On allegations by Malick Jatta that he took part in the killing of Daba Marena and others, Mr Sanneh said Jatta never liked the orderlies, including him and he (Malick) knew he was not there.
Read Other Articles In Article (Archive)