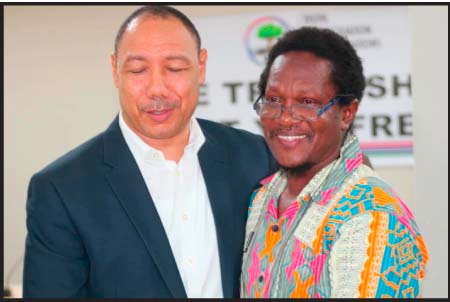 (Thursday 24th October 2019 Issue)
Following decades old hatred, former junta members- Sana Sabally and Edward Singhatey, have finally reconciled on Wednesday during a reconciliation meeting convened by the Truth, Reconciliation and Reparations Commission (TRRC).
The duo were members of a five-man military council that put an end to the 30-year-old rule of former president late Sir Dawda Kairaba Jawara in 1994. In 1995, Sabally alongside late Sadibou Hydara were arrested and jailed for their alleged plot to overthrow former exiled leader- Yahya Jammeh.
Speaking at the ceremony, Sana Sabally stated; "we are asking for your understanding and indulgence as part of the reconciliation and nation building. In as much as we have forgiven each other, we are making it for a larger scale so that the whole country and those abroad or even if you are not directly a victim or victim's family, we are asking for forgiveness. And we hope that you will find it in your heart to forgive us."
The two Junta members have been adversely mentioned in several killings during the time of former president Yahya Jammeh.
However, Sana openly admitted to several of those allegations during his testimony before the commission, where he confessed.
Edward on the other hand, also testified and admitted ordering several killings, but denied direct killings.
"I hope that Almighty Allah will instill forgiveness from all of us, who have been offended in one-way or the other. As my bother Sana said, we have forgiven each other. I hope this will serve as an example for others also to come forward and also forgive and move forward, so that we can concentrate on developing our beloved nation. Any one who ever suffered in our actions, jointly or individually, please find it in your heart to forgive us." Edward stated.
Read Other Articles In Article (Archive)