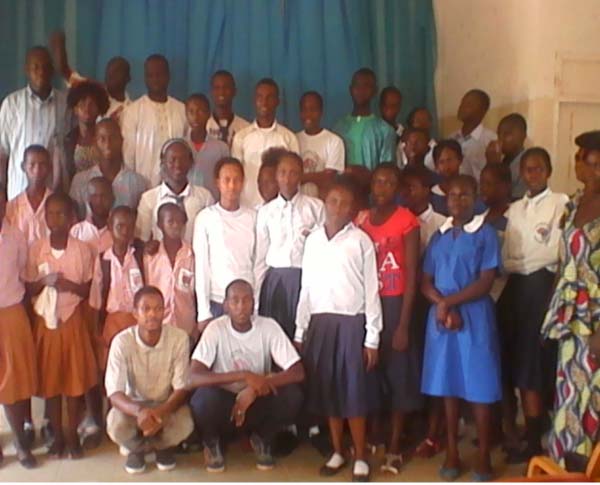 Young People in the Media (YPM) on Saturday ended a two-day capacity building training activity on child rights and advocacy techniques for differently-able children.
The training session, held at the St John's School for the Deaf and Hard of Hearing, was aimed at empowering the participants with knowledge on children's rights and protection issues.
Funded by Save the Children Foundation, the forum also aimed at equipping the differently-able children with basic communication tools that will enable them to effectively disseminate key messages on their rights and welfare.
Abdou Jatta, coordinator of YPM, said young people, particularly the differently-able, are vulnerable to all forms of abuse, exploitation and trafficking.
He urged the participants to make best use of the training course, and share the knowledge gained with their colleagues who were not part of the training exercise.
Bakary Badjie, a board member of YPM, said everyone, including the differently-able, has a role to play in the development of the society.
He said the differently-able are part of the society, and that they can be useful and beneficial to its development.
At the global level, the rights and welfare of people with disabilities are recognised and protected in the United Nation Convention on the Rights of the Person with Disabilities.
It was ratified by the Gambia government in 2013, but it is yet to be domesticated.
"I called on the government to domesticate the rights of the person with disabilities so that there will be a [national] law to protect their wellbeing and status," Mr Badjie said. "Our country's future depends on us, and we cannot achieve a brighter future if we don't have the commitment and determination."
Mrs Maria Allen, vice principal of the St John School for the Deaf and Hard of Hearing, thanked YPM for organising the two-day training course, while urging the participants to utilise the knowledge gained.
Eric Samuel Ketter, president of YPM, said: "It is part of my vision as the president of the YPM to associate with Saint John School for the Deaf because the people with hearing impairment are part and parcel of the society."
He promised more of such training sessions for the differently-able children, in the future.
Read Other Articles In Article (Archive)