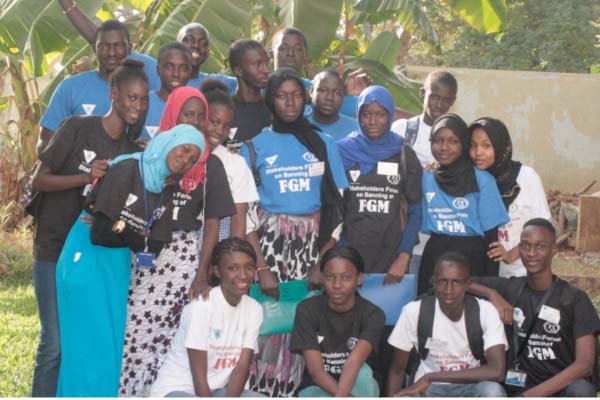 Young People in the Media (YPM) on Friday held a two-day stakeholder forum on Female Genital Mutilation (FGM) at NaNA conference hall at Bertil Harding Highway.

The stakeholder forum, on the theme: 'Accelerating our collective efforts in ending FGM in our generation', was funded by The Girl Generation (TGG).
The participants, all young people, were drawn from youth-led organisations that are in one way or the other playing active roles in the campaign against FGM.
Abdou Jatta, executive coordinator of YPM, said the forum has come at the right time, one year after President Yahya Jammeh banned FGM in The Gambia and the National Assembly passed an anti-FGM bill.
He noted that the forum was an opportunity not to be missed for it provided the platform for the young anti-FGM advocates to add their voices, energies and efforts and answer to the call to action on total abandonment of FGM in a generation.
"We can use our press, art, drama, and science clubs to come up with innovative ways to help push total abandonment of FGM in a generation in The Gambia," Mr Jatta said. "Total abandonment of FGM and GBV in The Gambia must continue to be a priority for all of us."
He noted that due to the cultural sensitivity surrounding FGM, discussing it in homes and communities used to be a taboo but today, the issue has become a household topic in The Gambia.
"This is a big achievement which is as a result of rigorous advocacy, social mobilisation, community engagement, training and sensitisation involving policy makers, legislators, health workers, traditional and religious leaders amongst others," he said.
Mr Jatta told the participants that as advocates, they should not be complacent in their efforts to end FGM just because it has been banned.
"Instead, we need to redouble efforts and use the best practices and lessons learnt from our previous interventions to introduce more innovative approaches which will speed up the total abandonment of FGM in The Gambia," YPM coordinator stated.
Filly Nyassi, senior social welfare assistant, said the government is committed to promoting, fulfilling and protecting the rights of all children in The Gambia including the right to protection from FGM.
"The banning of FGM and child marriage is a clear testimony of the government's commitment to protecting and promoting child rights," he said. "Our aspiration for children in The Gambia is that every child lives in a peaceful family setting, be educated and healthy in every aspect of their lives, physically and mentally, in order to fulfill their potentials."
However, Mr Nyassi said this aspiration could only be achieved through collective efforts with relevant stakeholders and professionals across government departments, non-state actors and communities.
Musu Bakoto Sawo, programme officer of TGG, said the organisation is a global campaign that supports Africa-led movements to end FGM.
It does so by amplifying the issues at local and international levels and brings positive attention to positive stories of change.
Ms Sawo said the aim of TGG is to see to it that women and girls live a healthy and meaningful life.
Read Other Articles In Article (Archive)