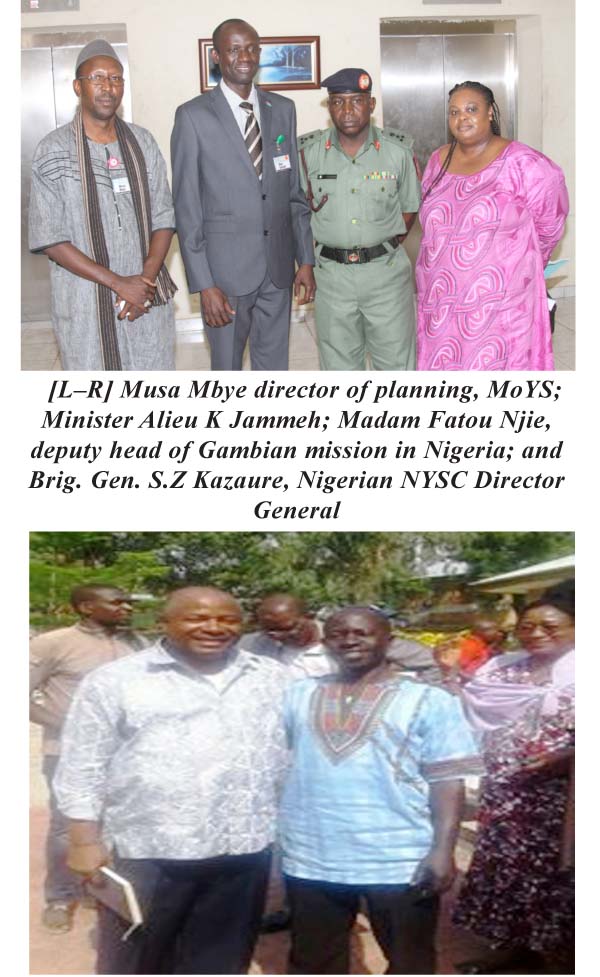 Minister Alieu K Jammeh's delegation included Musa Mbye, director of planning, Department of Youth and Sports, and Mustapha Badjie, programme manager at the National Enterprise Development Initiative (NEDI).
Held from 21- 22 April 2016, ENABLE Youth Programme was designed to support young unemployed graduates to go into agribusiness as a well-paying career.
Organisers said the success of young agribusiness entrepreneurs can help mitigate such serious social issues as rural-urban and transatlantic migration, soaring youth unemployment and associated risks to society.
They said ENABLE Youth Programme, funded by African Development Bank, can help young African men and women to become proud owners of profitable agribusiness enterprises.
While in Abuja, the minister and his delegation visited the National Youth Service Corps (NYSC) of Nigeria and met with its director, Brigadier General S.Z Kazaure.
The delegation was led to the NYSC headquarters by the deputy head of Gambia mission in Abuja, Madam Fatou Njie.
This visit was aimed at further strengthening the bilateral relationship between the National Youth Service Scheme (NYSS) of The Gambia and the Nigerian NYSC.
Minister Jammeh said since the inception of the NYSS in 1996, Nigeria has been supporting the institution by providing technical manpower assistance.
Since 1996, not less than four sets of Nigerian technical teams have been deployed to The Gambia as technical assistants at NYSS.
"The last set of this team left The Gambia in 2004," the minister said, adding that NYSS had benefited immensely from the contributions of Nigeria through capacity building in manpower development and administration.
"We therefore find it expediently necessary to uphold this mutual relationship and foster greater ties with the NYSC," Jammeh said.
Brigadier General, S.Z Kazaure, director general of NYSC of Nigeria, also gave a brief history of "the long standing excellent relationship" between the two institutions.
Meanwhile, Mr Badjie, NEDI programme manager, said the Abuja workshop had availed him the opportunity to learn new things and models that can be replicated in The Gambia.
"It also availed me the opportunity to lobby for The Gambia to be part of the countries that will host ENABLE in future," he said.
He explained that ENABLE focuses on all the aspects of the agricultural value chain and The Gambia has similar things so the programme will add more value to the country's agriculture.
"The programme will create employment opportunity and market for the young farmers in the country, when it comes to The Gambia," Mr Badjie said.
He noted that as Gambian delegation, they have succeeded in selling the country's image during the conference and the organisers were convinced to come to The Gambia.
"They will be coming here for facts findings based on the information we gave them on our agricultural potentials," NDEI programme manager said. 
Read Other Articles In Article (Archive)