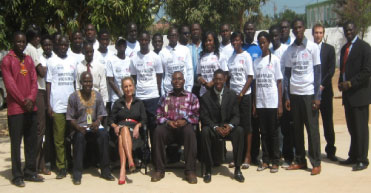 Over 30 youth leaders from different youth organizations in the country are taking part in a four-day training workshop on peace building, crime prevention and violence at the Tango Hall in Kanifing.
The training is organised by the Youth Crime Watch The Gambia (YCWG) and funded by the US embassy.
Welcoming participants at the workshop, Abdul Jobe, National Director of the YCWG, said young people constitute the foundation upon which the future of any society depends.
He added: "Their protection, survival and development are directly interwoven with that of the future society. Accordingly, it is imperative that we engage the necessary measures to address all vulnerabilities that may tend to destabilize our aspirations."
Young people represent about 55% of the population in The Gambia, Jobe says, adding that the socio-economic matrixes do not always adequately cater for the needs of young people, who are mostly marginalised.
 YCW The Gambia, he said, believes that if young people are empowered and given the chance to explore opportunities through positive interactions, sharing of experiences with policymakers on crucial issues that affect them, and be given their God-given entitlements to lead the quest for positive change, there will be drastic reduction in crimes and the use of illicit drugs in society.
The training, he said, will provide a unique platform and opportunity to empower youth with the necessary skills needed in building community and the nation, harness leadership potential towards peace building, as well as to foster tolerance and sense of oneness among youth.
"It also aims to promote effective crime reporting, to promote crime prevention opportunity for youth, as well as method and means of intervention into existing problems posing as barriers to developmental and to promote community-based policing, with strong emphasis on police/youth relationship."
He stated that crime, illicit drugs and violence deposit devastating effects on the social and political aspects of the nation. Today, more than ever before, there is an urgent need for young people to get off the fence and take their rightful place in nurturing the culture of peace, as opposed to crime, illicit drugs and violence.
In her keynote address, Ms Pamela Ann White, the US Ambassador to The Gambia, said: "The current government has taken bold steps to ensure that illicit activities such as drugs and violence don't distract the country from reaching its development potential."
Ambassador White stressed that the United States, represented by its embassy in The Gambia, is committed to assisting groups such as YCWG to promote the message of peace and development.
According to Ms White, last year hundreds of youths from all over Africa including three from The Gambia were invited to meet in Washington D.C to participate in the President's forum with Young African Leaders discussing a range of issues from entrepreneurship, to governance, and foreign policy with each other youths and President Obama.
"Only by talking to each other will we learn and grow," she emphasised while challenging the participants to talk to their families, friends and especially other youths to impart to them the information that will be gained from the meeting.
She said she was impressed with Gambian youth for their efforts in nation building.
Officially declaring the workshop opened on behalf of Youth and Sports Minister Sheriff Gomez, the National Youth Council Executive Secretary Marchel Mendy expressed gratitude to the Youth Crime Watch The Gambia, for organising a very timely training on a subject of great relevance to the youths, in particular, and The Gambia populace in general.
The youth are an important component in the existence and development of human societies, he said. Indeed, the future of any society can only be guaranteed and assured by its youth. "The energy and resourcefulness of the youths serve as new fuel for the development of society," he added. "Undeniably, education and training are the most critical aspects of youth empowerment."
However, he said, the youth today are facing numerous challenges that are hindering the full realization of their aspirations, key among these is crime and drugs.
He revealed that statistics from Tanka Tanka Psychiatric Hospital have shown that over 90% of their patients are male, and of this group, over 85% were affected by drug-related substance.
He stressed that the high rates of crime and violence are undermining growth, threatening human welfare and impeding social development in the country. "One of the most worrying issues we are confronted with in today's society is drugs, which interrelated to crime and violence. Moreover, fighting crime diverts limited economic resources from other critical human development sectors such as health and education."
The Government, he said, will continue to act aggressively, looking into prevention, enforcement, treatment and rehabilitation, as well as international cooperation against cross-border trafficking.
He applauded the US embassy in Banjul for its timely intervention to help empower the youth of the country. "The Government of The Gambia is cognizant of your interventions in empowering young people in this country," he said.
The board chairman of YCWG, Ibrahim Ceesay, said youths are not only the future but also the present and they need to be informed and empowered with skills in circumventing problems affecting them. 
Youth Crime Watch - The Gambia is committed to curbing crime, illicit drugs and violence in communities. It seeks to promote peace and stability, as well as good citizenship, he says.
Read Other Articles In Article (Archive)