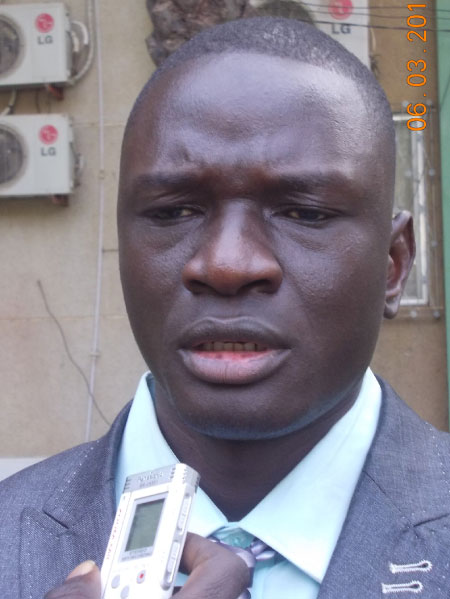 The permanent Secretary at the Ministry of Youth and Sports, Mambanyick Njie, yesterday presided over the signing ceremony of Italian Coach Luciano Mancini at a ceremony held at the Gambia Football Association GFA Office in Kanifing Layout.
Speaking at the signing ceremony, PS Njie thanked Almighty Allah for making the partnership between The Gambia and Italy, adding that having Mr Mancini is a boost to the technical department.
He seized the opportunity to call on all Gambians to really behind Mr Mancini and the technical staff in their quest to uplift Gambian football to higher height and expressed optimism that Mr. Mancini will deliver to expectation.
The vice chairman Normalisation Committee of GFA, Alhagie Omar Sey, has expressed delight with the Ministry of Youth and Sports for hiring the Italian coach, adding that the new coach will work with the technical department in their drive to deliver the desired results.
He applauded the Italian people for supporting The Gambia with a coach, noting that the coach will work closely with Peter Bonu Johnson to take Gambian football higher height.
Coach Luciano Mancini hailed the Ministry of Youth and Sports, GFA for signing him and assuring the Gambians that he would make all efforts at uplift Gambian football.
Other speakers on the occasion included the vice president of the Italian Football Federation, Carlos Tavecehio and Luigi Rapace, who said they would invite the Gambia national team in their annual football tournament in Italy later this year, adding that last year's tournament was attended by Saudi Arabia.
Earlier on Monday, the Normalisation Committee of The Gambia Football Association on 16 April 2012 received two Italian football officials; Carlo Tavecchio, Vice President of Italian football Federation, and Luigi Repace, President of Regional Football Association, and a member of the Italian FA who are currently in The Gambia at the invitation of the Ministry of Youth and Sports and the GFA after the two institutions made a visit to Italy two months ago in pursuance of technical assistance.
The Vice Chairman of the GFA Normalisation Committee, Alh Omar Sey, welcomed the Italian officials and expressed gratitude in receiving them as The Gambia's new partners in sports development, particularly football.
Mr Sey on behalf of the GFA Normalisation Committee discussed with the Italian officials their work of operation and possible areas of cooperation.
The bilateral meeting outlined The Gambia's position in football development in technical, administration, medical, refereeing, coaching, and infrastructure.
Alhagie Omar Sey further commended the Italians for securing the services of Coach Mancini and assured the visiting football officials of his association's resolve to deepen the relationship between the two federations.
Mr Carlo Tavecchio, Vice President of Italian Football Federation, on behalf of his colleague, expressed their readiness to cooperate with The Gambia in terms of football development.
Mr Tavecchio challenged the Gambian football authorities to chronologically put in order their areas of priority which would in turn be forwarded to the Italian FA for possible intervention.
Read Other Articles In Article (Archive)