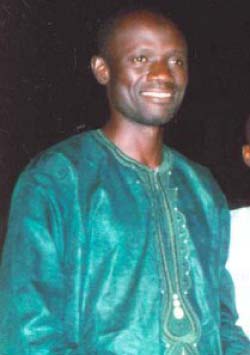 Alieu K. Jammeh, Minister of Youth and Sports, has said he was very excited about the "very good football" he saw during the knockout final of the Serrekunda East Sports Development Organisation (SESDO) played on Sunday between Maccassa FC and SV Laar FC. 
Good and well organised football is what they want to see in communities and at grassroots level, he said, adding that Peter Bonu Johnson (assistant coach of the Gambia senior national team) and the director of the Department of Youth and Sports were also present at the final and must have seen very good talents they can add on to the national team.
Serrekunda East organizing the final in a peaceful manner was a step in the right direction because such display of good organization is needed to be taken down the communities, the sports minister remarked.
 "It is also no doubt we want to stay in the international commitment," he said, adding: "We have to work on the foundation, which is the grassroots; otherwise if we go up to the roof it will collapse someday.
"We want to go somewhere and play (at international level) but it is from the grassroots where we have the foundation."
Minister Jammeh also thanked Gamcel for sponsoring the knockout trophy, saying government alone cannot do it. He therefore calls on companies and parastatals to join hands with government to go down to the communities and provinces because "we have a lot of talents down there".
He reiterated that he was very happy about the lively environment under which the final was played as well as about the high turnout of fans.
The Gambia is a football-loving nation, he said, while thanking the fans for contributing their D5 and D10s by coming out to watch the game and support their teams.
Read Other Articles In Article (Archive)