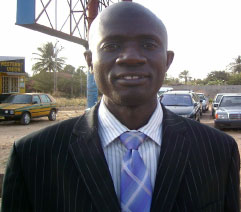 The minister of Youth and Sports, Alieu K. Jammeh, has said his ministry would diligently continue to dialogue, mobilise and direct meaningfully the energy and affairs of youth towards productive enterprises for youth development.
The ministry shall continue to advocate for positive attitudinal and behavioural change among the youth, he said.
The action-oriented youth minister was speaking on Thursday afternoon at the official opening of the 2012 Nayconf in Bansang in the Central River Region.
Nayconf, he said, is an event where young people converge once in every two years, emanating from the pragmatic and vibrant policies pursued by government.
According to Minister Jammeh, sources have revealed that the youth are generating and creating employment opportunities and not only seeking for layers of governance from regional to national levels of authority.
With the proliferation of schools, he said, tertiary institutions, skill and trade centres in all parts of the country, and scores of youth are generating and creating employment opportunities.
The youth, he added, are not only seeking employment, but are also represented in decision-making layers of governance from regional to national levels of authority.
 "As a result, a new generation and breed of conscious, smart, intelligent and critical minds are being nurtured in the country," he said.
Minister Jammeh added that a good number of sponsored youths in the country are acquiring various types of education and academic qualifications from all four corners of the globe.
Mr Jammeh said that many youths have now demonstrated their talents and high skills and are playing their various trades very well in the country and beyond, as well as in other kills performing arts in which young men and women exhibit amazing ingenuity and creativity.
"We continue to call upon ourselves (the youth) to refuse being on the sideline, but rather in the midst of the unprecedented and incremental development in the country."
The youth minister challenged the youth to come out of the ghettoes and resist the fantasy of instant success of the Babylon syndrome and irregular migration.
He further urged them to lessen their dependency on others and rather accept to toil harder and join hands with the government for collective national development endeavours.
Read Other Articles In Article (Archive)