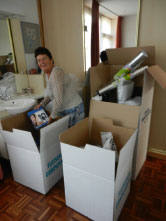 Dutch couple are on preparation to establish an orchestra training centre at SunSwing Beach and Resort Hotel in Kololi, to be called (Marina SunSwing Orchestra) for the Gambian youths who are jobless with the main purpose of reviving The Gambian tradition and culture.
These was revealed by Mr and Mrs Louis Marina Van Emmerik, from Holland, who on Friday brought in the country the first consignment of musical instruments for the centre worth over D250, 000.
Speaking to this reporter shortly after the arrival of the orchestra musical instruments at his hotel base, Mr Louis Emmerik said the main reason for establishing the Orchestra Centre at SunSwing Beach and Resort is to better the lives of the young and jobless Gambian youths.
"I want to give the young Gambians self esteem by developing themselves and these Orchestra musical instruments were available to the Gambian youth through donation from my friends and well-wishers in Holland and I personally bought some items from second hand shops in Holland," Mr Emmerik told this reporter.
He said there are more items on the way coming for the centre, adding that for the start of the centre, twenty-five young Gambians will be trained but the number will go up in future.
They will not employ any teacher for the centre; instead the youths will learn by doing it for themselves because in that way they will learn in their heart way to develop their own personality.
"We will establish a wonderful Orchestra Centre for The Gambian youth that every Gambian youth will have the interest to join the centre/ "Our centre will not play Western music but Gambian music only with western instruments," he said.
He said they are not going to change the Gambian tradition and culture but instead they will promote and nurture them for the best interest of the young Gambian youths, to whose hands the future of the country lies.
In his remarks, Mbye Njie, the Gambian counterparts to the Dutch couple, said the centre in future will be registered as a charitable organization but was quick to add that Gambian music do not use wind instruments to make the melody that would bring the country's culture and traditional music to life.
"Many a time, there has been outcry that Gambian music is down but with this training centre about to be established here at SunSwing Beach and Resort Hotel, Gambian tradition and culture will be revived using Western instruments and empowering Gambian youths through learning by doing," Mr Njie stated.
Read Other Articles In Article (Archive)