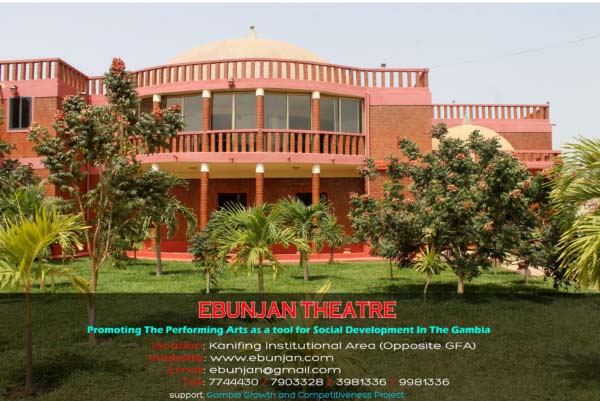 Eleven young Gambians are poised to thrill an august audience with stunning performance of African and modern dance at the Ebunjan Theatre.
The young talents, who went through a four-month intensive training programme in theatre arts organised by the Ebunjan Theatre troupe and supported by the Gambia Growth and Competitiveness Project, will also stage a dramatic presentation of two epic poems under the theme "Traditional culture versus European culture".
The two poems: Song of Lawino and Song of Ocol written by renowned Ugandan poet Okot p'Bitek tell an enthralling story of a young African woman who loves her native African culture and traditions and her husband who in contrast abhors everything African and points out that Africa will fail to develop if people continue to cling on to old customs and traditions.
The play will be the first of its kind as some selected verses will be delivered in the local language wollof and staged during the graduation ceremony at the theatre house on Friday 24 July 2015 at 8:00pm prompt.
Entrance fees will be D300 and D200 for adult guests and D100 for students. The theatre urges the general public to come in their large numbers to be entertained and enthralled by the young Gambian talents prepared to put up spectacular performance on Friday night. 
Read Other Articles In Article (Archive)