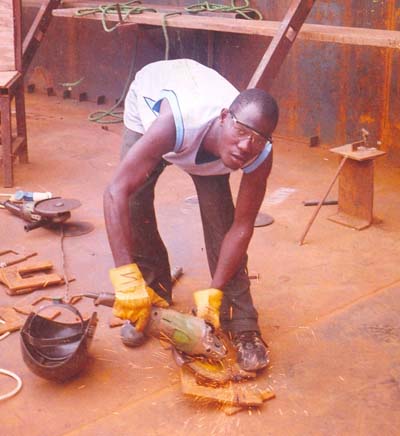 Mr. Samba Janha, a young Gambian from Farafenni and resident of Churchill's Town Serekunda is currently looking for academic support to further his education in the field of welding.
Speaking to this reporter, Mr. Samba Janha explained that he attended Farafenni Primary and Junior Secondary School and later worked for the Gam Petroleum Company, at Mandinary Village in Kombo North for nine months.
He said "they were doing all the odd jobs because they don't have the necessary qualifications while their Senegalese colleagues were serving as supervisors for the fact that they have all necessary qualifications to serve in that capacity."
Mr. Janha further explained that this has motivated him to further his education in welding to serve his country in that capacity instead of leaving it in the hands of foreigners. He said they were about 100 Gambians at Mandinary Gam Petroleum Company, supervised by about 40-50 Senegalese in their own country. This, he added, has nothing to do with neither nepotism nor does it has to do with racism.
The 28-year-old aspiring Gambian youth said this had motivated him to go to Dakar in Senegal to look for every means possible to study professional welding in various forms. He revealed that he has already done his trial examination and came out first but could not pay 3 million CFA, equivalent to D150, 000. He said he came back to The Gambia to look for support from the government, NGOs and individual philanthropists, especially President Jammeh who always wants to see Gambian youths developed in all spheres of life.
Mr. Janha can be contacted on the following numbers: 9303631 or 7218727.
Read Other Articles In Article (Archive)