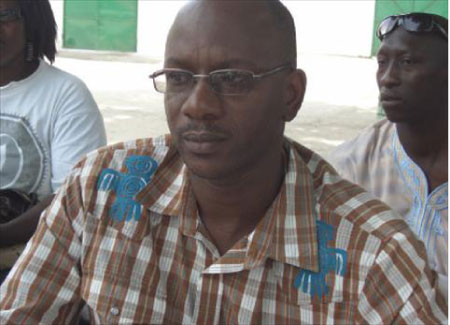 YMCA male basketball team and Saints female basketball team were on Saturday crowned league champions of the Gambia Basketball Association 2014 league champions.
With the game tight on 57 baskets apiece, with 4 seconds remaining in the final quarter of the game, a referee blew a foul against Serrekunda West and awarded YMCA two free shoots, thus Serrekunda West matched out of the game.
YMCA was accordingly pronounced male league champions, and therefore defended the title they won last season.
As winners, YMCA went home with a giant trophy, a cheque for D15,000 with medals.
Saints female basketball team were crowned league champions after beaten the Gambia Armed Forces female basketball team by 38 baskets to 35 baskets in the female final played on the same day at the Independence Stadium Basketball Lawn.
Saints, as winners, received a cheque for D10,000, a trophy and medals, while runners-up GAF went home with a consolation prize of D5,000 with medals.
Abdoulie Jarju of YMCA was named the most male valuable player of the season while Jama Gai of Saints walked away with the most female valuable player of the tournament.
Speaking to reporters shortly after the game, Foday Singhateh, YMCA head coach, said he was happy but not 100 per cent because their opponents "ran away".
He added that it somehow made him "annoyed" as they should have completed the game.
He stated that they made mistakes at the fourth quarter and gave their opponents the chance to close the gap, saying they should not have allowed such.
From start to end they were leading, which means they had rectified themselves from previous games, he noted, adding that there was no way his skipper Pa Cherno Bah was going to lose the two shoots awarded to them, which resulted in Serrekunda West matching out of the game.
Serrekunda West were just looking for an excuse, he pointed out, saying that even if they were not awarded the foul they were still going to win the game.
The YMCA coach stated that since the commencement of the league, they had told their players that anything less than defending their title was a failure for them, adding that they had proved themselves this season.
Next season they would fight to defend their title again, he said.
Abdoulie Badjie, head coach of Saints female basketball team, expressed delight at his girls as they "worked hard" for the final and also played "very well".
He stated that at one point in the game he was worried because his girls were not defending properly and were also giving away too much of balls.
The remarked that, the principal of the school coming to watch the game did not put any pressure on them, while thanking fans of the team for coming out to support the team, and all that had been behind them. 
Read Other Articles In Article (Archive)