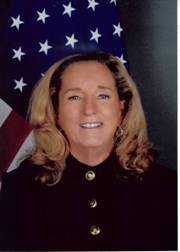 In her bid to expose and promote the art works of Gambian artists, U.S. ambassador Pamela Ann White on 2nd March hosted an art exhibition at her residence in Fajara.
Conceived by Ambassador Pamela White, the art exhibition was, among other things, geared towards exposing and marketing the products of some prominent and well-known Gambian artists to the wider community.
"I decided to host the exhibition in my residence to give it a special meaning. I am hoping that the big crowd here will appreciate and buy more of local art products. I will take several pieces bought back home in the US, and all my staff love Gambian arts. I do this to raise the consciousness of it, and to be more appreciated," White told journalists at the exhibition.
For her, if people understand the arts of a country, they understand the soul of the country. She said bringing great Gambian artists in the country to exhibit is very well appreciated by a small group, "and we want to give better exposure to their products".
She expressed her wish to host the art exhibition every six months, as "it gives artists courage and encourages them to do more".
Asked how these artists can penetrate the huge US market, White said: "We are working with some artists, sending them to US one by one; encouraging them to sell their products. Mama Africa spent several weeks in the US, geared towards exposing her talents and work."
The US diplomat congratulated and advised the artists to keep exposing their work to people, and never to be discouraged.
Isa Fofana, an artist and founder of Mama Africa Arts Gallery in Batokunku, commended the US ambassador for her initiative, noting that this is what artists need in order to be encouraged.
"This is a welcomed development. This is great, seeing my colleagues with their great works of paintings; it is really wonderful. The colour, ambience, environment and people here at the exhibition add impetus to our work," she stated.
Art, she added, is not a something taboo. "Let the women and girls come out and expose their talents; art is a nice profession. I am lonely today, as the only woman exhibitor here. Where are the women? Let them come out!" Isa added.
Omar Jallow and Babucarr Gassama, young Gambian artists exhibiting their products at the residence, also felt good as it was the first time for them to exhibit their products.
Toyinbo Lawrence, an artist and teacher who was also exhibiting his paintings, textiles and sculpture, explained that his work depicts Africa and its uniqueness.
Read Other Articles In Article (Archive)