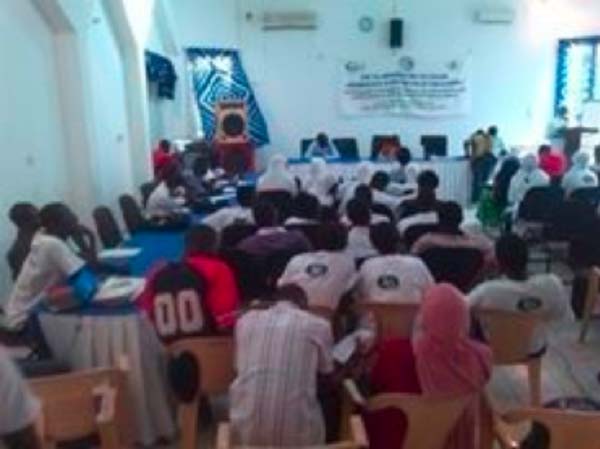 The Young Journalists Association of The Gambia (YJAG) Saturday celebrated the 7th year anniversary of the organisation at the TANGO conference hall in Kanifing, with the renewed callon media houses nationwide to do more to promote better working conditions for young reporters.
Speaking on the occasion, YJAG president Nfamara Jawneh said YJAG on 31 September 2013 held its last congress paving the way for a handing over from the old executive to new faces, which was held on 26 October 2013. They were tasked to steer the affairs of YJAG, he said.
According Jawneh, the day marked another milestone in the history of YJAG, and wished happy birthday to members both at home and abroad, active and non-active.
"I want to assure you of our commitment and dedication to our baby, YJAG," he said, which he described as "an independent and non-profit making organization formed in September 2007 and registered in December of the same year."
It was formed by a few young journalists in the country, who realized the need and that it was time to have a formidable group that would champion the cause of young media practitioners in The Gambia, Mr Jawneh stated.
The objectives of the association includes to promote unity among the young journalists in the Gambia; provide capacity building for members and champion their welfare; and to contribute to the socio-economic development of the country through objective reporting, as well as to promote press freedom and freedom of expression in The Gambia and to serve as an incubator for young and upcoming journalist from senior secondary schools and the UTG, who want to find themselves in the journalism profession one day.
Jawneh said YJAG has members both from the print and electronic media nationwide, as well as student journalists from school-based press clubs.
This year's theme is: "The role of the media in promoting agricultural development and the attainment of food self-sufficiency in The Gambia."
It was timely as it happened on the eve of International Food Day celebration, which called for family farming to ensure enough food for all, as well as the government's Vision 2016 agenda which aims at having enough food for all Gambians.
"As journalist we believe that we have a very important role to play in promoting the attainment of food self-sufficiency, which indeed is achievable if all hands are on deck," he added.
Jawneh said in a country that depends largely on agriculture, the young journalists have a vital role to play in advancing the sector.
Journalist should widen their coverage of agricultural development, to help educate farmers on new agricultural technologies and best farming practices, he said.
Journalists should also promote the government, civil society and partner's intervention in agriculture. 
Read Other Articles In Article (Archive)