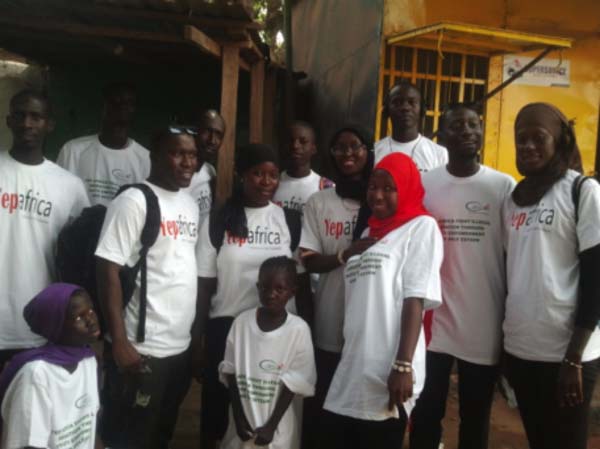 YEP, a youth organization recently organized a sensitization forum on Africa Fight Illegal Migration through Youth Empowerment and Self-Esteem at a programme held in Brikama in the West Coast Region
In his remarks, the National Assembly Member for Kombo Central, Buba I. Sanneh, said he was impressed by the organizers as their aim is to empower youths as the future leaders of tomorrow.
He said in order to help them, a good foundation should be built by sensitizing and educating the youths about the dangers and risks they take using the back way or irregular migration to get to Europe.
He thanked the founders of the organization for their commitment.
The Executive Director of the National Youth Council (NYC), Lamin Darboe, noted that young people should know the risks behind irregular migration.
Young people should invest their own talent in their own country, he said, adding that every child has a responsibility and a fundamental human right that includes the parents, society, community, government and the international community.
He advised parents to stop financing their children to go through the back way; if not there would be no leaders in the future.
Superintendant Malafi Jammeh, head of the Irregular Migration Unit at the Immigration Department defined irregular migration as travelling into or out of a country without passing through official recognized entry points.
Such persons became victims of irregular migrants in their host country, and thereby offend the laws of the country, he said, adding that they are not criminals and must never be treated like one.
"Migration is an integral aspect of life on this earth, hence the fundamental story of the human race from its origins to date," Superintendant Jammeh said.
He stated that the Gambia Immigration Department has embarked on effective and continuous dialogue with local communities at the grassroots level in order to fight against irregular migration.
Furthermore, he said, the department has hired a psychologist consultant to talk to young people of this country through workshops and on TV so as to help them explore their ability to earn a better and a decent living standard in the country.
According to Superintendant Jammeh, the Immigration department under the preview of the Irregular Migration Unit has recorded quite number of returnees and deportees.
He disclosed that from 2013 to date 734 young people and potential migrants have returned home as returnees having failed to reach their intended destination (Europe).
Officer Jammeh added that these young Gambians are mainly from Libya, as a result of instability in that country (Libya).
The North Bank Region, Central River Region, Upper River Region and West Coast Region are where these migrant are predominantly coming from, he said.
All those who embarked on this deadly journey were males, and only one female was recorded as a returnee in 2013 from Libya, he stated.
He further disclosed that the unit also recorded 255 deportees from January 2013 to date and most of these received were mainly from Switzerland, UK, Tunisia, Angola, Germany, Sweden, Spain and Italy.
He added that to fight against irregular migration through youth empowering and self-esteem was a significant step that would help the Immigration Department in the crusade.
Read Other Articles In Article (Archive)