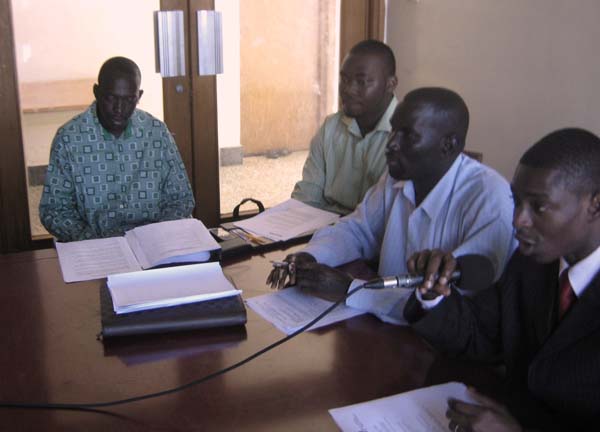 Youth Employment Network (YEN), The Gambia Chapter on Thursday 6th May 2010, convened a press conference at the conference hall of the National Youth Council, Independence Stadium in Bakau.
Speaking at the occasion, the National Coordinator of YEN, Mr. Abdou Boye, said their priorities as a network was to advocate for youth employability, equal opportunities and entrepreneurship, so as to make YEN Gambia one of the best and most vibrant networks in the country, and by extension in the sub-region.
According to him, the association is recognised throughout the world and works in over one hundred countries, advocating and promoting youth employment issues.
Mr. Boye also revealed that their association came into being in response to a call made by the then United Nations Secretary-General, Kofi Anna, to all UN member states, World  Bank and the International Labour organisation and all heads of state and government to mobilise national and local actors to review, rethink and reorient past policies and implement new policies, to fulfill the commitment to decent work for young people so as to create youth employment network in their respective countries and globally.
He alluded that their network was formed in 2002 before the first-ever global youth employment summit held at Alexandria, Egypt, which was aimed to adopt the yes frame work for action to guide the decade campaign 2002-2012. "Since then we have been participating in almost all the summits," he stated.
For his part, Ibrima Ceesay, the Treasurer and Logistic Officer for the Youth Employment Summit (YES) said that the 5th upcoming global conference will be held in Leksand, Sweden from 2nd to 5th June 2010 for the first time in Europe. The Gambia, he said, cannot afford to miss it since there are so many opportunities this time around.
Noting that the conference would be looking at social, financial and economic arrears to create more job opportunities for the youths, he said the conference will be attended by the former UN boss Kofi Annan, representatives from NGO's , UNDP, World Bank,  world richest persons like Bill Gates, Mo Ebrima, just to name a few.
He called on all stakeholders, government, airlines, GSM companies and NGOs to come to their aid.
According to Ceesay, this year's summit is a forum with a difference, simply because there would be an investment panel to review proposals, a market place for projects and a ministerial forum.
"The Gambia cannot afford to miss this golden opportunity," he stressed.
Speaking earlier, Marchel Mendy, the Executive Secretary of the National Youth Council said that this is a good opportunity to grasp for the development of young people. He challenged stakeholders, government, NGO's and all investors, the UN system to aid The Gambia participate in this important forum.
Abdul Jobe Networking and Partnership Officer said the country needs a very strong team that can fully represent and defend the country?s proposals.
The Master of Ceremony, Mr. Nfamara Jawneh, Communications and Advocacy Officer of YEN maintained that the issue of unemployment is a serious global problem that needs to be addressed.
Jawneh commended The Gambia government for the efforts taken in addressing youth employment.
"While every country needs to understand the dangers associated with ignoring the global youth unemployment issue, countries must recognise the wealth of human potential available, if young people are given the opportunity to create solutions," he concluded.
Read Other Articles In Article (Archive)