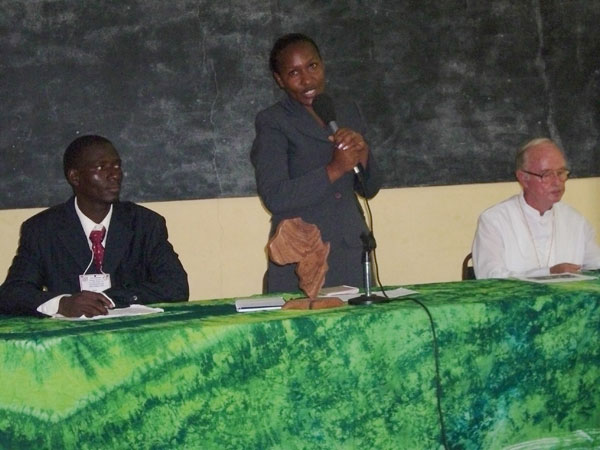 The Young Christian Students (YCS) in collaboration with the International YCS based in Kenya, have drawn participants from Nigeria, Ghana, Liberia, Sierra Leone and their Gambian hosts to harp on the theme, "Sustainable Ecology: In Faith Students Response, Through Action." Each participating country sent their youth chaplains to be a part of it. What has ecology got to do with youth? Many say their motto, "See, Judge and Act" comes into play. Panorama finds out.
Michael Gomez, the chairman of the occasion a YCSer says, "This is the first time we are hosting the Pan African body. It is a great day for me, and all gathered here, on the theme: 'Sustainable Ecology: In Faith Students Response, Through Action.
As you are aware, a lot of things are happening in the world. I think this workshop is timely. I hope we would share out experience with participants, and go back rich in knowledge to better our society,:" he said.
Bishop Robert Patrick Ellison CSSp. welcomed participants and thanked them for choosing The Gambia as their venue for the all-important meeting. "Its good to come here", he said. He further reiterated that it is quite easy to come into The Gambia and quite easy to go out. "It is also called the Smiling Coast of Africa. I am sure you must have heard it," he said.
"It is exactly one year ago when AECAWA and their French counterpart gathered and merged as one. This year, precisely in December, we shall meet in Cote d'Ivoire in a similar meeting of both francophone and anglophone. We dealt with youth migration. It was important because many West Africans have crossed the desert to go to the Canary Islands. These are sometimes very dangerous. It is mostly due to unemployment. How can we work together to eradicate and help each other?" he said.
Bishop Ellison CSSp further said that "groups have started coming together to identify the common problems of our countries, according to our programme". He thanked and congratulated the YCS for a very comprehensive programme they prepared. He expressed hope that they will gain from it. "May God give you hope and perseverance, May He give you the spirit to do your best. May He bring you back home safely, Amen!"
Michael Gomez the chairman said, "YCS looks into the realities of life in their environment".
Mary Wamba, the General Secretary of the International YCS from Kenya, Nairobi, said she was happy to be present. She pointed out that it was really difficult coming together for the programme. Organising it is not easy, because it took a lot of contacts and brain cracking.
"This is the first time talking on sustainable environment. We are a Catholic organisation; we can't close ourselves up. We also talk on HIV/AIDS and others. We had sensitised in Senegal, DR Congo, and East and Central Africa," she said.
She said there were three of them, but the other two, a priest and another youth in the head office, were already busy in a similar workshop in Ghana and Tanzania, and she is in The Gambia.
Mary Wamba said, "At the end of the workshop, we want to come up with a report and an action plan to better our society, and the report would be sent with the declaration to Bishop Robert Ellison CSSp. Let us keep in touch and keep the brotherhood going."
The Monseigneur coming from Nigeria apologised for coming late. He said he was delighted to see everybody. "Our gathering here is a sign of the good work many have been doing. I thank you," he said.
Fr. Raphael Kpeden comes from Port Harcourt in Nigeria, Fr. Johnbull from Sierra Leone, and Fr. Philip Tickey Jnr. from Liberia.
Meanwhile, talking to Fr. Philip Tickey Jnr. On his expectations, he said, "At the end of the workshop, I hope that each of us would have a better understanding and to put up good work on ecology and environment," he said
Fr. Philip Tickey Jnr said he had recently been to Rome on a global symposium for chaplains.
Fr. Raphael Kpeden from Nigeria said they were there for students to understand their environment better. "It is faith and reason. Students can now see how they can bring this into focus in life to support our own ecology. Christianity is not only on, I believe, but it is away from that" he said, "Archbishop Melingo said, 'God will work with you but not for you.' But also wants our own contribution. This is one way we can put it into play," he said.
Joseph Colley, a former YCSer talking about the past YCS and the present YCS of the country, accepted that there have been differences, and they need to do some adjustments. "In the past, we didn't have a chaplain per se. Annet Owens was very instrumental including Sister Sarian Gomez, Jean Carlvalho and in 1987 Horrace another very active YCSer who died in Freetown in an accident," he said.
He further said that there was a different school system then, with secondary four, and now it has to be established at all levels of education. "It was really strong with members like Bunuto, Angela Colley till around the 90s. Now that we have junior and secondary, they need to revive it at all levels," he said.
In Ghana, Joseph Colley working for the Independent Electoral Commission (IEC), said it is called YCS at the school level, and at tertiary level, it is called 'PAXROMANA.' "I suggest they introduce it here too," he said.
Read Other Articles In Article (Archive)