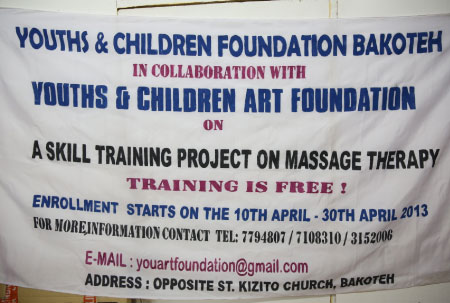 Youths and Children Foundation Bakoteh (YCFB) in collaboration with Youths and Children Art Foundation (YCAF), recently opened a training workshop on massage therapy and lectures on controlling the spread of HIV infection and AIDS amongst young people.
Speaking to journalists at a press briefing held at the organization's office in Bakoteh, Mr. Fred Efosa Omobude, Director of YCFB, stated that the month long training taking place from the 1st to 31st May 2013 is meant to give participants skills that qualify them to be massage therapists, to enable them to gain employment and to also provide free massage service to their families.
According to him, Youths and Children Foundation Bakoteh (YCFB) is a registered Non-Profit Charitable Organization, focusing on education, health, welfare, Arts and capacity building of children and youth in The Gambia.
The organization aims to empower and improve the lives of the youth and children, most especially, in the rural area; and to enlighten the youth on health issues, capacity building, and skills acquisition, among others.
"To respond to such demanding need of education for those young people, YCFB in collaboration with YCAF decided to embark on a month-long free intensive training program," said Mr. Omobude.
Since the training is provided for free, the YCFB Director therefore appeals to individuals, institutions, philanthropists, agencies and the public to support this initiative by sponsoring them to ensure sustainability of the program.
"This initiative will also help to engage the minds positively for a sustainable community development," he said.
He further spoke of the importance of massage therapist in our community health, as it helps to treat and  ease pain without the use of pain killer medicine, anxiety and depression, back, leg, and neck pain, carpal tunnel syndrome (repetitive strain) dislocations, fractures and edema, headaches, sports injuries, stress and stress related conditions (stroke), among others.
Read Other Articles In Article (Archive)