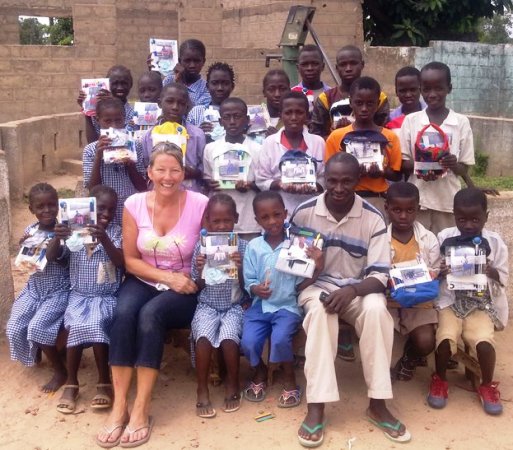 Yagana World Foundation founder Dinemarie Langereis on 12 July sponsored another batch of seventeen students in Makumbaya Lower Basic School and seven other students from the Makumbaya village now attending Kombo Kerewan Upper Basic School.
This invaluable gesture was carried out by Ms Langereis barely a week after she had sponsored six students at the Bakoteh Proper Lower Basic School.
The distinguished founder of Yagana World Foundation, a charitable organisation based in Holland, also built houses for two of the recently sponsored students whose family houses collapsed during last year's rains.
Speaking at the presentation of the school materials at a ceremony held at the Makumbaya Lower Basic School, Lamin B. Sanyang, headmaster of the school, told the benefactor: "We really appreciate your support. The sponsorship is very important for our students and we the school management and parents of the students greatly appreciate it, and we thank you very much and pray for you to have long life and good health." 
He however appealed for more sponsorship for his students many of whom came from poor family backgrounds.
He also appealed for other items such as school stationery and sports gears, saying they will be of benefit to the school, which also needs infrastructural development.
Ebrima M. Y. Ceesay, deputy headmaster of the school, in his remarks on the occasion, said: "We are really impressed with the support you are rendering to the students of our school."
Mr Ceesay added that words cannot express their appreciation and gratitude to Ms Langereis but would like to let the noble woman know that the entire village community highly appreciates what she is doing for them.
"The sponsorship may be a small thing to you but it is a big thing to us," he said, adding: "More children are here who are in need of support and it will be deeply appreciated if we can have more support for them."
Bakary Jabang, senior master at the school, said that since the intervention of Yagana World Foundation in the school seven years ago, the charitable organisation has been helping not just the school but also people of the village. "All this is appreciated," Mr Jabang said.
Kebba Kujabi, Alkalo of the village, thanked the donor on behalf of the parents of the children who benefited from Ms Langereis's generosity in respect of the scholarship packages and construction of houses.
Read Other Articles In Article (Archive)