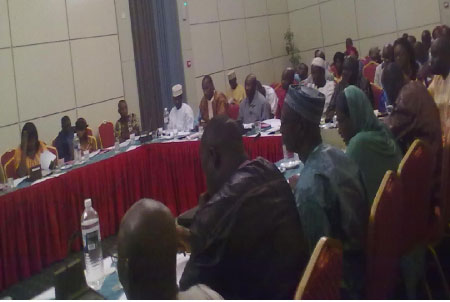 The Government of The Gambia through the Ministry of Finance and Economic Affairs has made provision for an international consultancy for the formulation of a national microfinance policy for The Gambia.
This has been done in line with the design of Social Development Fund's (SDF) entrepreneurship promotion and microfinance development project (EPMDP).
It's against this backdrop that various stakeholders including ministries on Friday gathered at the Kairaba Beach Hotel to validate the draft national microfinance policy.
The policy aims at creating a comprehensive framework for the development of a dynamic microfinance industry to foster a climate of understanding in which stakeholders work towards a common goal of contributing to poverty alleviation.
It also seeks to promote wealth generation by offering sustainable financial and non-financial services to a wide range of clients.
It wants to promote the growth of a sustainable and inclusive financial sector, through the efficient provision of a broad variety of micro-finance services to the economically active poor and to urban and rural microenterprises in a dynamic and efficient microfinance market.
In his keynote address, Mod Secka, permanent secretary at the Ministry of Finance and Economic Affairs, said the major problem in microfinance globally has been the difficulty to access rather than affordability.
Mr Secka noted that if financial services to the poor are to be expanded on a scale that will have an even greater impact, then microfinance needs to become part of mainstream and accorded all due impetus for its development.
"It needs to be supported by the right infrastructure and resources both human and financial," he opined.
He revealed that the role of key institutions such as central bank and the registrar of cooperatives will become very critical.
"Microfinance needs to be sustainable and its development must focus on both the supply and demand sides supported by the social infrastructure that will enable poor people and the economically vulnerable to spend less time on coping with poverty issues such as hunger and diseases and more time on exploiting their entrepreneurship and income generation opportunities," said PS Secka.
Speaking earlier, the SDF fund manager, Sonko Fofana, adduced that the formulation of the policy is a key development objective of the EPMDP, and also a response to the government's priorities of formulating and formalizing a common sector as a contribution to financial inclusion and poverty alleviation.
He expressed optimism that once finalised, the policy would be able to sustainably resolve constraints and also facilitate established framework within which microfinance operation will develop, as well as laying out principles that will guide microfinance operation, among others.
Baboucarr Jeng, general manager of the National Association of Cooperative Credit Unions of The Gambia, (NACCUG), said as practitioners, the policy is indeed very important to them.
He noted that without it their activities will not be guided and visions and missions not measurable by their regulators or the targeted beneficiaries.
He calls on the government to work towards the harmonization of different regulatory frameworks for the microfinance sector in The Gambia while taking into consideration peculiarities associated with some of the players, among other issues.
S. Bai Senghor, director of microfinance department at the Central Bank of The Gambia, noted that at their level, microfinance sector is recognised as an integral part of the wider financial system of the country.
He said it is a collective responsibility in ensuring a stable, viable and sustainable microfinance sector.
For her part, Marie Adams, coordinator of National Farmer Platform, revealed that microfinance is one of several important areas for investment in poverty reduction through agriculture, non-agriculture and other forms of livelihood development.
Read Other Articles In Article (Archive)