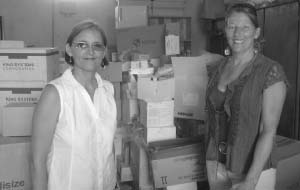 Yagana World Foundation, a charitable organisation based in Holland, on 14 July 2011 donated medical equipment to Jammeh Foundation for Peace Hospital in Bundung.
The medical items were secured from Medisize Manufacturing, Hillegon, the Netherlands, by Yagana World Foundation.
Speaking at the presentation ceremony held at the hospital, Dinemarie Langereis, founder of Yagana World Foundation, highlighted the numerous support they have been rendering to the Gambian community ranging from education, to health, agriculture and individual projects.
Kebba Manneh, chief executive, Jammeh Foundation for Peace Hospital, said on behalf of President Yahya Jammeh, who is the founder of the hospital, and the Ministry of Health: "We thank you for your gesture; for these equipment, which will be very useful to the hospital."
They have been working with the Dutch for some years, he said, adding that with the support of the Dutch they were able to train some of their nurses.
He also said the highly needed materials will be put into good use at the Jammeh Foundation for Peace Hospital and other hospitals in the country.
"Jammeh Foundation for Peace Hospital is a small facility but the number of patients we receive every day is very high and we thank you for choosing Jammeh Foundation for Peace Hospital as an entry point," Mr Manneh said.
"This will go a long way in reducing the maternal and infant mortality rate in the country."
Ms Josee Soppe, Dutch Consul to The Gambia, said the three areas of education, health and agriculture are priorities in The Gambia and "this is why we are doing our best to support these areas".
She stated that they have a Memorandum of Understanding (MOU) with the Ministry of Health to help train nurses in the country, noting that their priority "is to deliver quality, and not quantity, to the people".
Read Other Articles In Article (Archive)