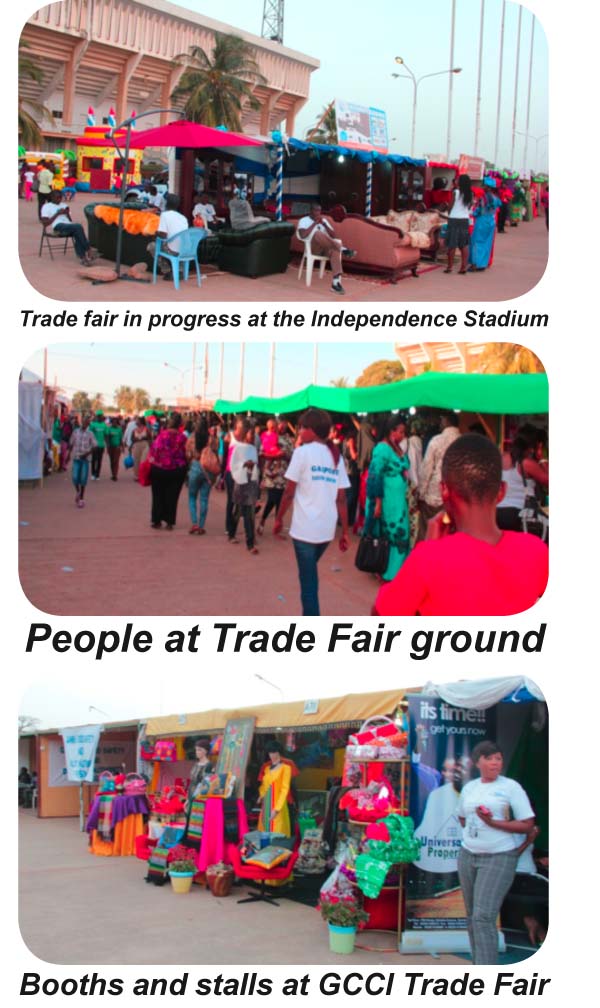 The Gambia Chamber of Commerce and Industry will hold its annual international trade fair, 'Trade Fair Gambia (TFG) 2015', themed: "Supporting Sustainable Enterprises: The Gambia @ 50", from 7 to 22 March 2015, at the Independence Stadium in Bakau.
There will be various goods and services on exhibition in about 250 stalls occupied by both local and international participants. The various local participants include businesses and entrepreneurs in the construction industry, agriculture, renewable energy, manufacturing, tourism, banking and financial services, management services, NGOs, public enterprises, among others.
The national trade fair is always known to be a successful gathering of various entrepreneurs, and it has been very effective in promoting the growth of the enterprises and industries involved. It has also built meaningful networks between local enterprises and international investors, as well as facilitates joint ventures and promotes Public Private Partnerships (PPP).
The GCCI organized its first national trade fair in 2003 with 88 local and 4 international exhibitors. By TFG 2014, the exhibitors had increased to 257 with 37,700 visits from 1st to 16th March 2014, with participants from 15 different nationalities from Africa and Asia.
In addition, the Chamber organizes its yearly 'Marche Jula' mini trade fair, which is meant for micro and small enterprises, with the primary objective of creating an affordable platform where these enterprises would buy and sell their products, as well as gain local and international exposure.
In light of the TFG 2015 theme, the GCCI calls for an integrated approach to promote and support the local enterprises in a sustainable and viable manner, as The Gambia celebrates its 50th independence anniversary in February 2015. 
All enterprises are part of the society they shape, and are shaped by the communities in which they operate. GCCI will therefore support these enterprises through strategies that will effectively enhance the management and governance of the enterprises in accordance with their legal status and operational objectives.
 The Chamber believes that promoting sustainable enterprises should revolve around strengthening the institutions and systems which nurture these businesses, as well as ensure that human, financial and natural resources are combined equitably and efficiently in order to bring about innovation and enhanced productivity.
However, this also calls for an improved partnership between the government, the private sector and the civil society to ensure that the operations of the private sector in The Gambia generate more employment and enhance the livelihood of the many Gambians involved.
Read Other Articles In Article (Archive)