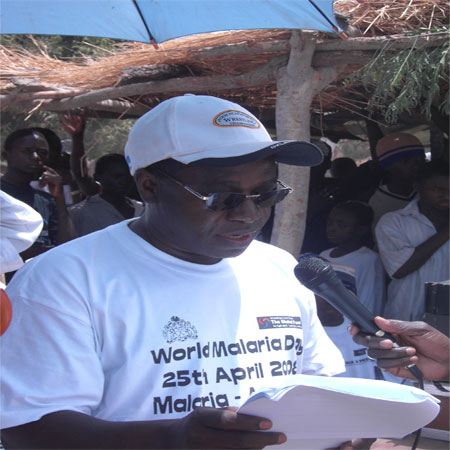 The Gambia last Friday 25th April, joined other member states of the World Health Organisation to commemorate World Malaria Day in the spirit of partnership, concerted action and convergence of resources.
The day, set aside by African leaders at a summit in Abuja, Nigeria in the year 2000, is an occasion that provides the opportunity to reflect on the impact of malaria around the world.
This year's celebration had the theme "Malaria, a disease without borders" with an accompanying slogan "United to combat Malaria" and was held in Jimara Bakadaji in the Upper River Region.
Being the eighth anniversary celebration of World Malaria Day, the occasion was marked by a march past by school children, voluntary organisations and cultural groups among others.
Speaking on the occasion, Mr. Malang Fofana, Manager National Malaria Control Program (NMCP) described the theme for this year's celebration as very fitting in the sense that malaria affects over one hundred countries worldwide particularly in Africa and Asia.
According to Mr. Fofona, here in The Gambia malaria is a leading cause of morbidity and mortality particularly with children under five and pregnant women.
On why World Malaria Day, the NMCP boss said, "Malaria is a high priority of government's and their collaborators on the ways and means to eradicate malaria and also share experience on the Abuja Declaration in order to mobilise all the stakeholders to exercise their efforts in order to prevent and control Malaria".
The NMCP boss also underscored government's commitment to the control and prevention of malaria.
"The government of The Gambia has demonstrated a high level of political commitment to control and prevent malaria which is evidence by the malaria treatment policy that has been changed, the launching of "Operation Eradicate Malaria" in the country and the provision of malaria eradication commodities among others", he said.
Mr. Fofona also used the occasion to commend partners for the support and commitment in making this year's celebration a success.
For his part Mr. Saihou Janneh, Deputy Permanent Secretary, State Department for Health said this year's theme recognises that malaria is a disease that does not recognise any confined border.
"We cannot sustain malaria by working in isolation as members of specialised agencies or in collaboration as members of a loose amalgamation but we can and we should by working together in a cohesive and concerted effort to be able to put a stop to the challenges for the eventual eradication of malaria", he said.
According to Deputy Permanent Secretary Janneh, government's resolve to eradicate malaria remains resolute and unshakeable sighting the recently launched "Operation Eradicate Malaria" as a clear testimony to that.
Speaking on behalf of the World Health Organisation representative to The Gambia, Dr. Mamo Jawla, underscored the need to co-ordinate efforts of all stakeholders in order to ensure a sustainable control of malaria in all the countries.
Others speakers on the occasion include Mr. Momodou S. Kah, Deputy Governor, Upper River Region.
Read Other Articles In Article (Archive)