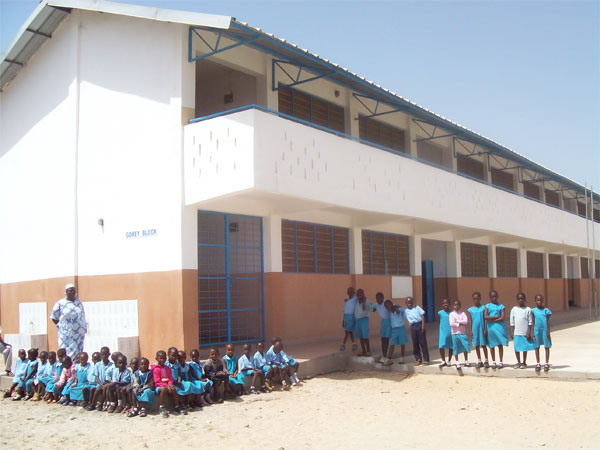 Brusubi, just after Sukuta near Tranquil, has a beautiful school that serves the poor of the community. The Sisters of St. Joseph's of Cluny set it up.
Sister Jean Therese Ndene, one of the senior Cluny Sisters said, in an interview at the school said, "Its name, Javouhey Academy encompasses the nursery, Lower basic, Upper Basic and Senior schools". According to Sister Jean Therese, the community deserved a good school because it is unfair to have brilliant, top class schools in the town centres and leave the outskirts with nothing. She believes that the children in her area deserve the best.
The bare land has now, in a short period of time, been transformed into an academy for educating all the youth of Brusubi.
According to the Headmaster and an educationalist, Paul Kujabi the school started the last academic year with the nursery and has been extending since then. He explained that they started on good footing and the parents had seen the truth of the Academy and how great it will become. He said that many people started to send older children as they believed it to be the perfect place for their children. They began to take in Grades one and two. Now they have about 148 students in the school. The Headmaster said that he is delighted with the progress and performance of all his pupils. He believes the reason for this is that English is spoken in and out of the classrooms and that this makes it easier to learn everything through English, as they can become more familiar with the language.
Sister Jean Therese, who is also the manager of the school, advised all parents in the area to send their children to the school. She said that they have five kind, well-qualified teachers to take care of the students. "The foundation in children is quite important. Our small class sizes provide plenty of room for learning", she stated happily.
Ebou Sanyang, an accountant, expressed delight at his children's development and progress in school and is very proud to see them act in plays and such like in English. I'm sure we all agree with him and believe that this project is a great thing for the people of the area.
Read Other Articles In Article (Archive)