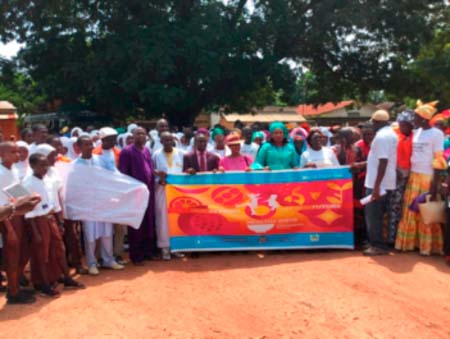 (Friday 18 October 2019 Issue)
Ministry of Agriculture in partnership with the Food and Agricultural Organization (FAO) of the United Nations, Wednesday commemorated World Food Day and International Day of Rural Women (IDRW) at the West Coast Region governor's office in Brikama, under the theme: Our actions are our future healthy Diets for a Zero Hunger world.
The day is commemorated to highlight the important role rural women play in the enhancement of better food production and productivity for quality and improved nutritional wellbeing for the population. It was characterised by a march past from Castle petrol station to the Governor's residence.
Agriculture Minister Amie Fabureh said the commemoration of World Food day is to highlight the important role played by rural women for the enhancement of quality food production and improve diets stating that a good number of agricultural food is produced by rural women.
She said the Government of The Gambia is committed to transforming the country's agricultural sector into a more sustainable area for increased livelihood of not only the rural women, but also for a better food production. She added that the objective of the Government in commercializing the agricultural sector would no doubt improve the farming community.
"We are committed as a Government to improve the livelihood of the rural women in farming by enhancing the agricultural sector of the country into a sustainable area". She said
Governor Bakary Sanyang suggested for a more resilient effort in order to address malnutrition and poor diet among children and adults in the world. He said this could be only achieved by extending support to the rural women for enhancing food production in the country.
He said as the day is celebrated in more than 150 nations, it is important to reflect on the impact of hunger among people in the world, while calling for more commitment in agricultural production, better coordination and improve participation of rural women in decision towards agricultural development.
"As a nation, we need to be more active in allowing women to participate in decision making, especially on agricultural productivity. This will assist in our national objective as they play vital role in our agricultural sector," he said.
Moshibudi Priscilla Rampedi, FAO country representative said her agency has huge commitment in assisting the rural women to realize their potential in food production through their governments.
She said rural women play a critical role in providing good percentage of quality food production in any developing nation, while calling for active involvement of all partners and governments in improving the trend for a better nutrition and balance diet.
According to her, FAO has being extending support to Gambia's agricultural sector in order for an increased livelihood of the rural women in agriculture to also prevent hunger and obesity among children and adults.
Read Other Articles In Article (Archive)