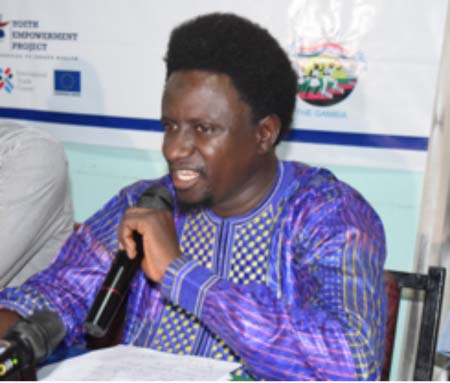 Executive Director, Mamadou Edrisa Njie, of the Global Youth Innovation Network (GYIN) Gambia chapter, better known as GYIN Gambia, at the opening of a two-day training, told the people of Foni Bulock to work together to advance their association.

The 3rd to 4th June 2017 training was held in Foni Bulock village for 40 women and youths on entrepreneurship, reports writing clinic and gender-based violence. The training was facilitated by GYIN Gambia to support Bulock Kapongha Youth Development Association members to acquire knowledge and skills.
The training, according to organisers, is in series so as to train more youth and women in the community to become self-reliant.
Speaking at the official opening, Ambassador Njie stated that for a community-based organisation (CBO) to achieve its goals and objectives, members must be ready to work in unison thus promote the agenda of the association.
"Your members need to bond family relationship, embrace each other in social activities and be ready to be ambassadors of the village," he said.
According to him, GYIN Gambia as a partner of Bulock Kapongha Youth Development felt that the Foni-based association needs capacity building programmes as well as skills development activities to contribute to the development of the local community.
He told his audience that GYIN Gambia as a specialised national youth network in rural developments and focuses on entrepreneurship, leadership, agribusiness and innovation programmes.
"We will continue supporting rural youths in their endeavours especially in the areas of entrepreneurship, leadership, agribusiness and innovative activities that gears towards enhancing rural lives," he promised.
Executive Director Njie pointed out that the training is one of the recommendations made during Bulock Kapongha Youth Development Association's congress on 16 April 2017.
"GYIN Gambia is here to support your association with meaningful activities that can transform your lives," he said. "I urged all of you here present today, to make best use of the training and share the gained knowledge with others to continue the learning process of transmitting knowledge."
Ms. Halimatou Colley, vice president of Bulock Kapongha Youth Development Association, commended GYIN Gambia for what she described as fulfillment of the network's promise made during the association's congress.
She hailed the efforts of GYIN Gambia leadership saying that for them to partner with GYIN Gambia was "not a mistake" because they benefitted a lot from GYIN Gambia from 2014 to date.
She called on their members to see the association as theirs while calling on them to contribute to the success of the association saying that the success of the association is the success of the village.
"When I look at you (members), I see success and hope for the future of the village," said Colley.
Mr. Ebrima Bah fondly called Pressbah, projects manager at GYIN Gambia, was the lead facilitator who took the participants through the Creating Opportunity for Rural Youth (CORY) Training Module on Venture Creation.
At the end of day training, participants identified three (3) incomes generating activities as follows; poultry, restaurant and sheep breeding. The income generating activities are planned to be implemented in 2018.
Within six months, June-December, 2017, the following activities have been identified- rehabilitation of the village market, tree planting exercise, youth farm and a football tournament.
The official opening ceremony was chaired by Mr. Sarjo Jarju, secretary general of Bulock Kapongha Youth Development Association while the training was moderated by Ms. Jainaba Manjang, head of programmes at GYIN Gambia, who advised the participants to take the training seriously and out the knowledge into good use.
Another training is planned on the 17th -18th June, 2017 in Foni Bulock also to be facilitated by GYIN Gambia on Leadership and Management training.
Read Other Articles In Article (Archive)