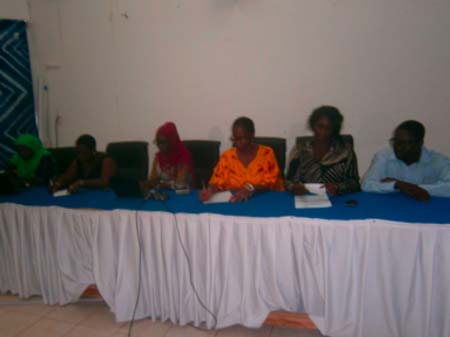 Media practitioners at the WAJA training workshop last Wednesday called on female journalists to hold on to the profession, despite challenges they face.
The call came at the end of a three-day training workshop sponsored by WAJA on gender reporting, held at TANGO conference hall.
Speaking at the closing ceremony, Wilma Jean Emanuel Randle, facilitator of the workshop, said the three-day workshop focused on building the capacities of journalists to report on women and gender issues, adding that the word gender refers to women and men.
There were 15 women and 5 male participants, and the workshop covered a lot of information within the three days, and thanked the participants for their engagement and GPU and TANGO for their support.
Sarjo Camara, co-facilitator of the training course, said female journalists "should not turn their back on the noble profession."
She said they should be gender-sensitive, and be able to use their gender lenses to scrutinize policies and programmes that are already there for the development of women.
Abdourahman Sallah, secretary general Network of Gender Journalists, said they have learned a lot over the past three days and a lot had been said, discussed and ideas exchanged.
Sainabou Kujabi, president of Sport Journalists Association, said for many years sport journalist has been regarded as an exclusively male profession.
Women were discouraged to enter the journalism field, but now more women are encouraged to become journalists as female journalists are now found in every media house in The Gambia.
However, the number of women in decision-making positions in the media houses is limited, she added.
Kujabi said the sports journalists association of The Gambia and the international sports press believe that sports media is not truly free and representative without the equal participation of women.
Edna Musu Badjie of GRTS TV said the training workshop was "very educative and interactive," and believes they all gained a lot on reporting gender issues, among other things.
"I believe that as we leave this hall, we will go out and make a change in the way we report and present our programmes on gender issues, especially on women," she said. 
Read Other Articles In Article (Archive)